Chief Financial Officer
As an experienced senior executive, with a track record of delivering improvements across construction and engineering-based businesses, John has an impressive career history, spanning more than 30 years in high-ranking leadership roles.
Beginning his career as a trainee accountant at Ingersoll Rand UK in 1987, John completed the training, studying and exams a year ahead of schedule, becoming the youngest chartered management accountant on the company record. Deciding to explore his passion for aviation, he moved on to BAe Systems at the tender age of 25, as the senior accountant for the technical directorate of the Military Aircraft Division. As the youngest 'grade 5' executive by 10 years, John was responsible for managing, analysing and improving the financial records for the billion-pound turnover company, with circa 20000 employees.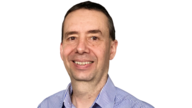 Specialising in the transformation and/or growth of SME and large private equity companies, John joined the FTSE 250-recognised Riva Group in 1994, where he undertook various senior roles across the UK and Zurich, before successfully preparing the business for sale in 2001.
Working across several other reputed businesses in Managing Director, Finance Director and Chief Financial Officer roles, John latterly operated as the FD for the £40m-turnover company, Thompson Contracts, where he partnered with the MD to develop an innovative strategy, successfully diversifying the business into new sectors.
Joining the Checkmate family on the 4th of January, John is already enthused to be working alongside our management and financial teams to progress and deliver the Checkmate strategy.
Fun Fact:
During a previous role, John regularly frequented the UK Embassy in Washington DC and on one occasion the West Wing of the Whitehouse, where he literally put his foot in it, as he couldn't resist taking an uninvited step into the Oval Office.
Having looked into the reputation and infrastructure of our business, I feel like I've landed exactly in the right place. Working alongside the ELT and SMT to continue to increase our share value and drive results, I couldn't be happier to be here."
Meet other members of the ELT