DURASTEEL®
Working in partnership with Promat, Checkmate delivers DURASTEEL®'s high impact, fire and blast resistant solutions for nationwide clients across multiple sectors. Utilised for heavy-duty fire protection and blast-proofing, DURASTEEL® protects installations for up to four hours across commercial, industrial, transport and power infrastructures.
Our team of DURASTEEL® installers have decades of experience, and our expert engineers are on hand to ensure smooth product installation for greater building protection.
What is DURASTEEL®?
In the words of the manufacturer, DURASTEEL® is a composite panel of fibre-reinforced cement with punched steel sheets mechanically bonded to both outer surfaces.
DURASTEEL® systems combine lightness, strength, impact resistance, blast resistance and durability with exceptional fire performance. These systems remain unaffected by firefighters' hoses, leaving them capable of performing their original function even during a fire.
Designed and certified for the harshest of environments across commercial, industrial, transportation, and energy generation sectors, Checkmate Fire Solutions is 'Barrier' licensed and accredited to deliver DURASTEEL® solutions to suit your project-specific application, including:
Horizontal/vertical barriers
Ceilings/floors
Cable/services enclosures
Doors/hatches
Blast/impact transformer barriers
Load-bearing structures where a performance of up to 240min EI can be achieved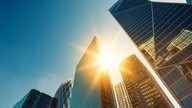 How DURASTEEL® Installation Benefits Checkmate Customers
DURASTEEL® products can withstand high levels of intense fire whilst also stopping heat transferring throughout the facility, preventing even further damage. This allows for effective escape routes to be created and acts as a life support system for the building until emergency fire services arrive to fight the fire.
In today's world, the need for systems which can perform multi-functional roles, whilst being capable of fast track and cost-effective installation, is of prime importance. DURASTEEL® walls, panels and partitions can be designed and then installed in various layouts and framing options to meet a multitude of our customers' needs.
Subject to quick installation, with no requirement for additional foundations or other special construction works, these heavy-impact panels can provide your buildings with up to 4 hours' fire protection.
Working concurrently with other on-site teams, DURASTEEL® installation is a 'dry' trade, so there is no disruption to other engineers or contractors working in the same areas, allowing for much faster project completions.
Key Features of DURASTEEL®
Used to provide the highest level of fire protection, features of this innovative product include:
UK manufactured to independently accredited ISO 9001 quality, ISO 14001 environmental and OHSAS 18001 health and safety management systems
Tested with a range of service penetrations and fire doors
CERTIFIRE accredited: CF607 Composite Barriers/CF418 Hinged and Sliding Doors/CF429 Partitions and Ceilings/CF480 Ductwork
Classed as 'non-combustible' to BS 476: Part 4: 1970 and A1 to Clause 10 of BS EN 13501-1:2007
Provides up to 4 hours (240 minutes) of fire protection
Blast resistant - Tested to 2.7 bar (270kN/m²) overpressure and CPNI Protected Spaces C15 for anti-terrorist
blast protection
High Impact resistance - Tested to 3000J swingball test post-4-hour fire test
Hydrocarbon Fire Resistant - Tested to H120 Hydrocarbon fire rating
Licensed installer network with Certificate of Conformity as required
How
DURASTEEL® can only be provided via a network of licensed contractors. Each project has a specific design process, which includes the below services from our trusted engineers:
Detailed site surveys
Production of AutoCAD drawings
Chartered structural engineering (when required)
Client approval
Fabrication of supporting framework to enable a "Meccano Kit" of parts to be constructed on-site
DURASTEEL® Sectors
Fire stopping delays the spread of fire and, generally, the spread of smoke. A seal closes an imperfection of fit or design tolerance between elements or components, to restrict the spread of fire and smoke also known as penetration and linear joint seals.
With Checkmate delivering solutions nationwide, DURASTEEL® helps to reinforce and maintain the compartmentation structure of your building across the following sectors: