Fire Door Repairs, Maintenance & Remediation
At Checkmate, we always prioritise repair over replacement and over the last 5 years, we have remediated 60% of all fire doors - only installing new ones when necessary.
With over 30,000 fire doors remediated or replaced every year, trust the UK's leading passive fire protection experts to take care of your building.
How does fire door repair work?
Fire door repair involves the application of a set of industry-accepted repair techniques which reinstate the integrity of the fire door, enabling it to perform as originally intended in the event of a fire.
So, how can you be sure the repair work you do is correct and that the doors are fit for purpose? Unfortunately, with some existing doors, there may be no product certification and maintenance instructions. Using our fire door survey process and bespoke software, Checkmate's BRE and FDIS qualified fire door inspectors undertake inspection and remediation of existing fire doors under the BRE/LPCB door remediation scheme LPS 1197.
Fire Room Maintenance: Did you know?
91% of our works are within an occupied buildings, meaning that we're well versed in working in spaces which are currently being used.
Our Fire Door Repair Experts
Checkmate's expert passive fire engineers are fully qualified to carry out fire doors inspections and repairs that will not compromise the integrity of the door. Over the last 5 years, we have remediated 60% of all fire doors - only installing new ones when necessary.
Checkmate is able to fit a range of innovative and cost-effective products to protect and increase the life of doors whilst reducing maintenance bills. All installed protection products are designed, tested and proven to retain full integrity even after prolonged abrasion and impact. Common areas where repairs take place are:
Leaf gaps
Threshold gaps
Light leaf/frame damage
Hinges
Glazing
Door Hardware
Air Transfer Grilles
Door Closing Devices
Intumescent Strips
Signage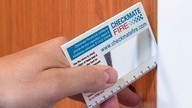 With more than 300 specialist personnel, we maintain compartmentation and passive fire safety in around 2000 buildings, along with completing 30,000+ fire door remediations or replacements every year.
LPCB/BM TRADA Accreditation for Peace of Mind
Checkmate are LPCB accredited for a reason. LPCB has been assessing and approving fire resisting systems and fire protection construction products for more than 100 years and has one of the best equipped laboratories in the world. So, ensure you use accredited installers of fire resisting systems and fire protection construction products.
Remember, it is crucially important that systems are installed in accordance with the manufacturer's instructions. These instructions can also specify the necessary fixings; any deviation at all from the system specification or method of build which must be confirmed in writing before the work is commenced.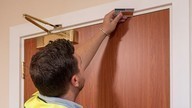 It is often too late when the product has been installed to try to unpick, and this can also lead to costly remediation work.
All remediated doors will be issued with a 3rd party LPCB certificate to LPS1197 standards or BM TRADA record of Q-MARK certified activities
Want to protect your fire safety investment?
Our Pre-Planned Maintenance service, Compliance+, removes the impact of unexpected costs and provides you with peace of mind that your fire safety measures will always be compliant.
Enable Budget Surety

Mitigate Risk & Liability

Safety Fire Compliance