Fire Safety Consultants
75% of businesses fold within 2 years of a major fire. This doesn't have to be the case…Dedicated to providing businesses with a route to compliance, Checkmate Fire has over 30 years in the fire safety industry.
Transparency and integrity are at the heart of everything we do. With our expert team of fire safety engineers and consultants, we are delighted to offer the following fire consultancy services to assist you on the pathway to complete fire compliance:
Fire Risk Assessments
Compartmentation Surveys
Fire Engineering
Fire Safety Strategy
Fire Compartmentation & New Floor Plan Drawings
Fire Risk Assessments (FRA)
The FRA is usually the first step our clients take on the path to compliance, getting a clear, well directed FRA from competent assessors is a vital step in ensuring the safety or your buildings.
The purpose of an FRA is to assess:
The factors that may potentially cause a fire within a property
The protective measures to shield people in the event of a fire
The preventative measures to reduce the possibility of a fire
Risk Assessors & Consultants You Can Trust
As FPA and IFE Members, our fire risk assessors and consultants have in-depth knowledge and experience that will prove invaluable to your business.
Our fire risk assessment method and reporting format adheres to the PAS79 guidance - the current recognised British Standard, as laid out by the Regulatory Reform (Fire Safety) Order.
You'll receive a comprehensive and individually written report, specific to your business premises
Our FRA's will liaise with the Local Authority, fire safety officers and/or governing bodies on your behalf
To find out more about Fire Risk Assessments, click here.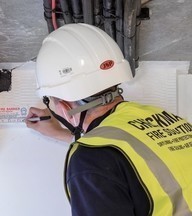 Compartmentation Surveys
Checkmate Fire offer fully accredited, third-party inspections for both fire doors and fire stopping compartmentation. Whether your requirement is for a single building, or a full estate, our expert teams are on hand to deliver detailed surveys nationwide.
With broad, multi-sector experience, we specialise in delivering inspections in occupied buildings, providing our clients with all the information needed to make informed decisions on how to maintain passive fire safety in their buildings.
Click here to find out more about the range of Fire Inspection Services.
Do You Need A Shorter Term Solution? Introducing Passive Fire Building Summaries
If you're not ready for a full compartmentation survey yet, we can attend site for a short period of time, subsequently producing a sample written and photographic study of your building's typical compartmentation. This is a more cost-effective method for you to ascertain a realistic indication of the scale of fire stopping issues within your building if you're struggling with budget constraints.
Operating under Approved Document B Volume 2 and BS 9999, we will validate the required fire ratings within the building.
This is most suited to symmetrical floor residential and office properties where there are budgetary constraints – while fairly accurate, this method will not identify every possible issue, and we would always recommend a full survey.
Fire Engineering – The Checkmate Way
Fire Engineering is an essential requirement in any construction project, combining a holistic approach to fire safety, with a real understanding of fire and the behaviour of people around it. This creates an infrastructure that is first and foremost safe for its occupants, whilst meeting the needs of the client.
When providing fire safety consultancy services, our team here at Checkmate Fire understands that every project, and its eventual solutions, are completely different. That's why we take each project on an individual basis, with solutions that are completely tailored to you.
Our team of highly qualified fire engineers provide prescriptive and performance-based solutions across multiple sectors, including healthcare, education, commercial, industrial, PBSA and facilities management.
Fire protection is one of the most important investments and critical considerations that can be made on a construction project. Our main objective is to help incorporate tailored and cost-effective fire safety engineering solutions that will ensure your building is compliant and fully in line with current fire safety guidance.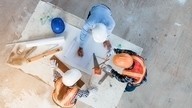 Fire Safety Strategy – Design and Retrospective
A Fire Strategy is a critical piece of building Information. It's a narrative of how a building is meant to function in the event of a fire, and should explain all the provisions in the building, while demonstrating how the design satisfies the functional requirements of the Building Regulations.
A Fire Safety Strategy really is critical for safe occupation and must be read, and understood, by all parties involved with the building.
Click here to find out more about Fire Safety Stragey.