Fire Door Installation
Checkmate specialises in the installation of fire doors and frames. Providing services primarily to occupied buildings, but also key new building projects, we are experts in the management of internal timber doors, front entrance door-sets and emergency doors.
With thousands of doors remediated, replaced and inspected, we are proficient in the supply of our services across many sectors, including student accommodation, healthcare, social housing, commercial and high-rise residential buildings.
Third Party Accreditation
Committed to ensuring full building compliance, all of our fire door works are certified through third party accreditation under the BRE/LPCB scheme LPS1271 and LPS1197 or BM TRADA Q-Mark Fire Door Installation/Maintenance scheme.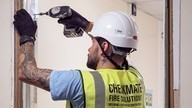 The Importance of Fire Doors
The key to passive fire protection is to contain the fire in a particular compartment or room, giving occupants enough time to escape and the fire service enough time to enter the building and tackle the fire. Designed to prevent the fire or smoke from spreading, a fire door is one of the most important fire safety products on your premises.
However, due to the nature of fire doors being used in a functional way on a regular basis, they are at greater risk of damage and abuse, seriously compromising the fire protection in your building. This is why it's key to ensure regular inspections and remediation, preventing the need for replacement, and more importantly, ensuring your buildings remain compliant.
Fire Door Installation
When it's not possible to fix a fire door, because damage to its integrity is so severe, or the fire performance certification may limit the scope for alterations, Checkmate's expert installers are on hand.
Fire door installers are skilled joiners that hold BRE LPCB / BM TRADA Q mark qualifications in the installation of new fire doorsets or fixes to existing fire doors. They follow manufacturer's installation guidance, global assessments, industry-accepted guidance, and fire door codes of practice to ensure a compliant installation.
Offering a full turnkey compliance service, from survey through to supply, installation and maintenance, our clients can be assured that all fire doors are installed in accordance with the manufacturer's fixing instructions and test evidence, to ensure that they perform as intended in a fire situation.
With over 30 years' multi-sector experience, Checkmate can provide fire door services to 'severe usage' locations, such as cross corridors and stairwells or NHS hospitals, which may require a higher specification than light-duty doors.
Checkmate Fire is one of most experienced and respected specialist passive fire protection companies across the United Kingdom. With quality, compliance and value at the core of our fire-door delivery, we can guarantee a real focus on customer satisfaction, always looking to remediate doors where possible, instead of charging to replace.
Working on time and on budget, we utilise cutting edge technology to improve customer service, delivering the following fire door specialisms:
Hinges
Glazing
Door Hardware
Air Transfer Grilles
Door Closing Devices
Intumescent Strips
Signage
Pre-Planned Maintenance Packages
Delivering Projects Nationwide
With branches strategically placed across the UK, we are well positioned to deliver high standards of service, both regionally and nationally.
Our experienced management teams are well versed in delivering small scale solutions, alongside large, multi-million pound projects. Operating as both sub-contractor and Principal Contractor, Checkmate has huge, cross-sector versatility.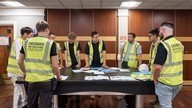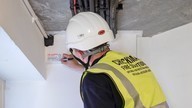 Trusted for over 30 years
With more than 300 specialist personnel, we maintain passive fire safety in around 1500 buildings, along with completing 30,000+ fire door remediations or replacements every year.
Providing bespoke solutions for our clients, and developing the most comprehensive range of built-in passive fire protection services in the market, Checkmate makes your buildings compliant now, and maintains this for the future.
Want to protect your fire safety investment?
Our Pre-Planned Maintenance service, Compliance+, removes the impact of unexpected costs and provides you with peace of mind that your fire safety measures will always be compliant.
Enable Budget Surety

Mitigate Risk & Liability

Safety First Compliance