Fire Door Installation & Fitting
Certified Fire Door Installation: Third-Party Accreditation
We prioritise the safety and compliance of every building we work on, which is why we're proud to offer fire door installations that are certified through third-party accreditation.
When it comes to fire door installations, we hold certifications under reputable third-party schemes such as the BRE/LPCB scheme LPS1271 and LPS1197 or the BM TRADA Q-Mark Fire Door Installation/Maintenance scheme. These certifications demonstrate our dedication to delivering high-quality fire door works that meet the stringent requirements set forth by independent accrediting bodies.
When it comes to fire safety, there's no room for compromise. That's why we go the extra mile to ensure that our fire door works are certified through third-party accreditation, providing our clients with confidence in the reliability and effectiveness of our installations.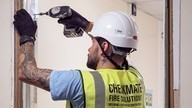 The Importance of Fire Doors
Fire doors play a crucial role in mitigating the effects of fires. The specialised design of a fire door make them resistant to the spread of fire and smoke, providing essential compartments that contain fire within a specific area.
Through their fire resistant properties, self closing mechanisms and intumescent seals, fire doors also minimise the amount of damage due to their design. By confining the fire to its origin, fire doors limit the destruction and help preserve valuable assets, along with protecting lives.
Our Fire Door Services
Working on time and on budget, Checkmate fire utilise cutting edge technology to improve customer service, delivering the following range of fire door specialisms:
- Fire Door Hinges
- Fire Door Glazing
- Fire Door Hardware
- Air Transfer Grilles
- Fire Door Closing Devices
- Intumescent Strips
- Signage
- Pre-Planned Maintenance Packages
Delivering Fire Door Installation Projects Nationwide
With our several locations strategically placed across the UK from London to Glasgow, Checkmate Fire are well positioned to deliver high standards of service, both regionally and nationally.
Our experienced management teams are well-versed in delivering small-scale solutions, alongside large, multi-million pound projects. Operating as both sub-contractor and Principal Contractor, Checkmate has high, cross-sector versatility.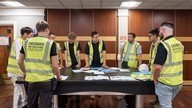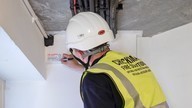 Trusted Fire Door Specialists For Over 30 Years
With more than 300 specialist personnel, we provide fire door and compartmentation services in over 1,500 buildings, completing over 30,000 fire door remediation or replacements every year.
Providing bespoke solutions for our clients, and developing the most comprehensive range of built-in passive fire protection services in the market, Checkmate makes your buildings compliant now, and maintains this for the future.
Remediation or Fire Door Replacement?
At Checkmate, we always prioritise repair over replacement and over the last 5 years, we have remediated 60% of all fire doors - only installing new ones when necessary.
Due to the nature of fire doors being used in a functional way on a regular basis, they are at greater risk of damage and abuse, seriously compromising the fire protection in your building. This is why it's key to ensure regular inspections and remediation, preventing the need for replacement, and more importantly, ensuring your buildings remain compliant.
Visit our repairs and remediation section to find out more.
Want to protect your fire safety investment?
Our Pre-Planned Maintenance service, Compliance+, removes the impact of unexpected costs and provides you with peace of mind that your fire safety measures will always be compliant.
Enable Budget Surety

Mitigate Risk & Liability

Safety First Compliance