With a strong commitment to our colleagues, clients, and stakeholders, Checkmate continues to be at the forefront of health and safety management.
Aiming to create sustainable business, satisfied clients and protected communities, we embrace the most up-to-date and relevant thinking in all our operations, with our primary goal being that everybody connected with our work is safe.
CheckSafe

Our safe way of working

The CheckSafe Process

Empowering our operatives

Raising the Bar

Workplace health and safety

Checkmate's Covid Measures

Continuing with essential services
CheckSafe
Dedicated to continuous improvement, employee wellbeing and a 'right first time' approach, Checkmate employs best practice to ensure the strongest standards of safety are achieved and maintained.
CheckSafe is about creating a safety first culture and ensuring safety is the first consideration in every action and decision we take.
CheckSafe is about ensuring our people and building users get home safe every day.
CheckSafe is about developing our health and safety culture. It's a way of communicating our policy as a business, ensuring health and safety is always at the forefront of our minds.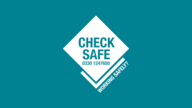 The CheckSafe Process
As well as seeing the CheckSafe logo added to our hi-viz vests onsite; this is being extended to all PPE and branded clothing. It's also featured in induction processes, within site RAMS, on posters in our offices, and on-site signage. The logo serves as a reminder to all our people to ensure safety is at the forefront of our minds at all times.
Monthly hub team meetings are already in place, focusing on areas such as improved near miss reporting, lessons learnt, and toolbox talks, generating continuous improvement within the wider business.
Key initiatives and findings from the hubs are reviewed at senior health and safety meetings each month, directly influencing our policy going forward.
Checksafe embeds a culture of working safely on site, and provides encouragement that doing so is a collaborative effort. "Am I working Safely?" encourages building users to communicate easily with our business should our standards fall short – this enables us to "correct and learn", ensuring our site teams remain safe.
This also extends to when our management and quality compliance teams visit site.
CheckSafe is our promise to continually strive to make sure everyone goes home to their family, safe and well, every day. We are totally committed to this promise.

- John Lewthwaite, Checkmate's CEO
Raising the Bar
Workplace Health and Safety is an issue for everyone, and our robust systems and management approach are backed by a strong programme of behavioural safety. This is supported by ongoing awareness training, toolbox talks, and communications to promote a business-wide cultural response to potential hazards.
Checkmate provides further staff support via our well-trained office and site based Mental Health First Aiders (MHFA), who are a constantly available and confidential resource.
As part of our operational 'right first time' culture, we endorse a 'change philosophy' that empowers our operatives to speak up if they believe our processes or ways of working can be improved.
Committed to raising the bar across the industry, Checkmate's senior management team are supporting continual improvement through ongoing monitoring, review and training. This includes:
Providing access to various training courses and qualifications
Team meetings at our Northern and Southern hubs
Clear site reporting processes
Monthly safety bulletins on lessons learned, best practice, and site-based case studies
Regular site audits from our external safety consultant, FQS
Checkmate's Covid-19 Measures
Providing essential services to multiple sectors across the UK, Checkmate has been operational throughout the pandemic and beyond.
To ensure we practice government guidelines, we are operating a 2-metre distance policy, which is clearly displayed on all our hi-viz uniforms.
As well as running a more stringent cleaning regime and employee procedures in the office and on site, we have also invested in over 5000 masks, 200 additional sanitisers, and a thermometer to check temperatures of all individuals who are on any of our premises or sites. Employing a 'back to work' toolbox talk for any staff who have been isolating, quarantined or on furlough leave, we're confident in our measures to support our colleagues and clients as we continue adapting to the 'new normal'.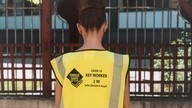 Case Study
Lessons Learned - Bump Caps & Debris!
The problem
With the necessity to enter ceiling and hallway cavities to ensure appropriate fire stopping measures, our site teams encountered dislodged debris and uneven surfaces. While none of this was considered dangerous, it still resulted in a few bumps and bruises.
The solution
Having already disregarded hard hats, for the simple reason that they are often too bulky to fit in ceiling cavities, one of our contracts managers had the bright idea of investing in 'bump caps'. Smaller, lighter, and able to fit to any head shape, the bump caps have completely eradicated any unnecessary discomfort caused by debris.