Check My Fire Door App
Download your very own door inspection app. Free to download and free to use, available now on IOS and Android!
The CheckMyFireDoor app is designed to help undertake "unskilled" checks of fire doors to give an indication of the fire door conditions. Used on a regular basis, it enables the user to follow the requirements for fire doors, as outlined in the Fire Safety (England) Regulations 2022. The app is designed as a basic check to complement regular third-party accredited inspection.
Introducing CheckMyFireDoor
The app enables the recording of fire door information and for the user to export a basic summary report. With a free instructional video, you can be using CheckMyFireDoor in no time at all, giving your teams the ability to undertake basic, quick checks of fire doors.
You can download the CheckMyFireDoor app for free from the Google Store and App Store.
Order Gap Guages & QR Codes
If you need tools, such as gap gauges to measure gaps, or QR codes to affix to each door, please email us. Don't forget at the end of your survey if you would like an expert to look over the findings, click "contact an expert" and a member of the Checkmate team will be in touch.
In addition to your own checks using CheckMyFireDoor, as a minimum it recommends that fire doors are always expertly checked by a third-party accredited company such as Checkmate Fire on an annual basis.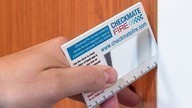 View Our Training Video
To assist you when carrying out your fire door checks, we've created an easy to follow instructional video which will talk you through the full process of using the CheckMyFireDoor app, it can be viewed on this page or via YouTube.
If you need any assistance, please contact us.