Fire Stopping Services
Checkmate Fire offer a comprehensive range of fire stopping services to ensure building compartments, walls, floors, service risers and roof voids retain their fire protection.
By sealing the penetrations through walls, roofs, floors, service risers and voids, we can ensure that our clients' buildings retain their fire resistance.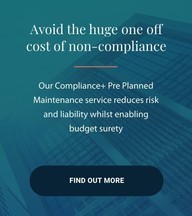 Fire Stopping At-A-Glance
What Is Fire Stopping?
Fire stopping, also known as compartmentation, is the preventative action taken to ensure a building is safe and complient to government regulations. Article 17 of the Regulatory Reform (Fire Safety) Order 2005, in respect of the requirement for maintenance of fire safety provisions, states that it is advisable to set up a regular planned preventative maintenance programme for completed works.
Checkmate Fire is one of most experienced and respected specialist passive fire protection companies across the United Kingdom. With quality, compliance and value at the core of our offer, we can guarantee a real focus on customer satisfaction.
Working on time and to budget, we utilise cutting edge technology to improve customer service, working with you to ensure:
Fire stopping is installed to BS 476 Part 24, and compartmentation to BS 9999
Doors, walls, floors and ceilings protecting escape routes are capable of resisting the passage of smoke and fire for long enough to enable people to escape the building
Where suspended or false ceilings are provided, the fire resistance must extend up to the floor slab level above
Appropriate, approved details and manufacturers are used for all firestopping works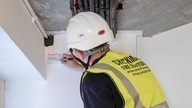 Why Is Fire Stopping Important?
Fire stopping delays the spread of fire and, generally, the spread of smoke. A seal closes an imperfection of fit or design tolerance between elements or components, to restrict the spread of fire and smoke also known as penetration and linear joint seals.
Due to the vital role fire stopping should play in your overall fire strategy, it's fundamental the both the fire resisting partitions and fire doors should be properly installed, by competent persons able to fully understand the importance of correct installation of the product in the context of fire safety.
Fire stopping came into its own in the late 1970s to help reduce the catastrophic loss of life and property caused by smoke and other airborne pathogens. It is especially critical in buildings where the mobility of tenants is restricted including hospitals, assisted living and nursing homes, high-rise buildings and prisons.
Fire Statistics Highlight The Importance of Fire Stopping
75% of all fire deaths are caused by smoke inhalation
Over half of fire-related deaths occurred in rooms where the fire did not originate
Smoke can fill a 20 by 20 by 20 foot room through a pencil size hole in less than 4 minutes
Ensuring Fire Stopping Building Regulations Are Followed
Checkmate Fire is a fully 3rd party accredited company, LPS 1531 certified - and we expertly install specialist fire-stopping products, ensuring our clients have the best in passive fire protection.
Providing fire stopping to current Building Regulation and British Standards requirements:
Prevents the spread of fire, smoke and toxic gases
Subdivides buildings into manageable areas of risk
Provides adequate means of escape, enabling time for the occupants to safely evacuate the premises
The use of our fire rated board systems within hotels, offices, hospitals and schools saves valuable space, which maximises rentable floor area.
Fire Stopping Installation
In line with our 3rd party accreditations through LPS1531, we have a national team of installers ready to remediate any defects within your building.
With exceptional attention to detail, our teams provide "right first time" solutions to passive fire faults. Experienced in delivering both small and large installation projects, over 90% of our works are in occupied buildings.
Acting as principal contractor or sub-contractor we will work with building users, occupiers and residents to ensure our works are programmed to be safe, offer value for money, and be delivered with flexibility to allow for the minimum amount of disruption - especially in and around vulnerable people.
We work in partnership with our clients, architects, contractors and building inspectors to ensure that we provide appropriate, cost-effective, fully designed and engineered fire stopping systems tailored to each building. We install both vertical and horizontal firestops through floors and walls, and these are primarily used to seal penetrations formed for the passage of services such as drainage, pipes and cables.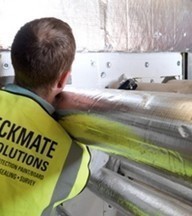 Common fire stopping installation works include:
Fire barriers/curtains
Fire, smoke, air and acoustic sealing
Riser compartmentation
Fire boarding
Intumescent pipe collars and wraps
Linear gap sealing
Load bearing compounds
Our systems range from simple joint and gap sealing to more complex movement or expansion joints. We also provide systems for the protection of mechanical and electrical services penetrating through walls and floors, with structural and loadbearing options available for service risers and shafts.
ASFP Recommended Fire Stopping
Checkmate work closely with the ASFP, and for many years have been a strong supporter and contributor to the ASFP's primary goals. Promoting excellence in the design and installation of fire protection products through high quality and technical expertise, a large part of this is education, industry collaboration and the need to share technical knowledge.
A good example of fire-stopping is shown in this short video, underlining the importance in restricting fire and smoke spread, and highlighting how all joints, gaps and openings for services must be adequately sealed or fire stopped. This module considers the types of fire stopping methods available.
Assured Quality & Compliance

All fire stopping systems are fully accredited and comply with the specified fire strategy and Part B building regulations.

Reports, Compliance & Certification

All our seals are recorded and certified under BRE/LPCB Scheme LPS1531, ensuring all work is covered by a uniquely numbered LPCB Certificate of Conformity.

Aftercare & Continued Compliance

As part of the ongoing legal requirement to manage and maintain fire compartmentation, Checkmate are able to provide flexible aftercare packages adapted to your individual needs.
Let's Make Fire Stopping Simple...
You may have a fire stopping requirement, discovered in a fire risk assessment, a need for a full survey, an already completed survey, or just simply concerns about your building safety. Whatever your needs are, we can help. With clear, easy to follow steps, our national team of inspectors and installers are ready to get your buildings back on the pathway to compliance.
With over 30 years' experience of fire stopping, supported by our in house technical compliance auditors, Checkmate is dedicated to giving you greater peace of mind about the compliance and safety of your properties.