Chief Executive Officer
Demonstrating a clear understanding of linking strategy to tactical plans, engaging people, and ensuring commercially viable delivery, John joined Checkmate as our CEO in March 2020, having previously spearheaded a comprehensive consultancy project to review our readiness for growth.
As a chartered civil engineer and member of the ICE, John began his career as a project manager at Mouchel in 1988, where he worked his way up to the rank of Operations Director and Technical Director during his 18 years with the business.
Moving on to both results-driven and strategic roles such as managing director, CEO, and an independent business consultant, John has worked across a range of business sectors and services, specialising in generating shareholder value through sustainable, profitable growth.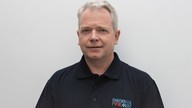 John's eye for commercial viability, leaner services, and improved customer focus ensures he is the right person to lead Checkmate on to new and exciting climes.
Having already redefined the vision and strategy for the business, streamlined processes and delivered a full senior management restructure while navigating the impacts of Covid-19, John's most significant reflection since joining has been recognising the true value of his team and the amount of work achieved during COVID 19 lockdown.
Fun fact…
John spent some of his career working in the Middle East during the gulf war where he enjoyed playing rugby on sand pitches and learned to water ski whilst dodging royal navy war ships!!
Checkmate's Executive Leadership Team...