Perpetuating a culture of sustainability, charitable works, and giving back to the community, Checkmate is devoted to ethical, sustainable and responsible working.
From environmental initiatives such as fire door recycling and reducing our carbon emissions, through to protecting local and national economies via work experience, apprenticeships and bridging skills gaps, Checkmate is dedicated to using our corporate success for the good of our nation.
Corporate Volunteering Scheme
Supporting the communities in which we operate is vital for achieving effective delivery and positive relationships - and we are proud to go the extra mile in engaging and helping those around us – playing our part in creating a better society.
Living in a world that is full of scarcity, conflict, loneliness and sorrow, Checkmate aims to provide more than just monetary support – we want to give the gift of time. And that's why we are making our community volunteering days a priority in our approach to CSR.
With each of our managers – including our executive and senior management teams - completing 3 'volunteering days' per annum, we are supporting causes that are close to the hearts of our people. These have included activities such as volunteering at local hospices, children's centres and homeless shelters.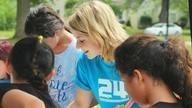 Organised Regionally, Delivering Nationally
Supporting regional and national causes across the UK, we embed the values of our framework providers into our everyday working lives. This has been demonstrated through numerous projects, from providing kit for local football teams, and raising money for various client crusades, to working with The Children's Trust to develop a corporate partnership that exceeds building compliance, and provides support for their worthwhile fight.
Apprenticeship Roles
While there is no official scheme for apprenticeships, Checkmate has developed and implemented a two year 'Passive Fire Training' course, centred around active labour within the workplace. With 16 brilliantly placed apprentices, this bespoke course has been designed to provide both on-the-job experience and the relevant qualifications.
Qualifications include:
NVQ Level 2 in Passive Fire Protection
SSSTS
PASMA
BRE recognition in:
- fire door installation, repair and maintenance
- fire stopping & compartmentation
Ethical Trading
Checkmate is committed to an Ethical Code of Practice which ensures the welfare and wellbeing of every individual that works for or within our business, as well as throughout our supply chain. There is a board-level, company-wide commitment to integrate ethical policies into the core business decisions that we make.
Equality, Diversity and Inclusion
The achievement of equality, diversity and inclusion is central in the company's mission as a provider of quality passive fire protection.

We aim to create an organisation which recognises the contribution of all staff. We will be supportive, fair, just and free from discrimination. We want Checkmate to be regarded as an exemplary employer within the public and private sector, and believe that any modern organisation has to reflect all the communities and people it serves.

In the pursuit of our aims we seek to continually extend, improve and strive for excellence in the comprehensive range and quality of the services we provide.