Checkmate Fire is the UK's leading specialist in providing passive fire protection installation, remediation and compliance services to major FM companies across the nation.
With over 30 years' delivery under our belts, we have vast experience of working in partnership with renowned FM companies to deliver comprehensive firestopping and fire door services to complex sites across the UK.
Solutions tailored to the FM sector
Offering our services to wide ranging clients, our FM customers can be assured of our ability to work across multiple sectors, understanding the key requirements in each. These range from sensitive wards in an NHS hospital and protecting vulnerable people in social housing, to secure defence or justice environments and busy public spaces & heritage sites.
We see our work on site as an extension of the FM business we represent, adopting expected process and behaviours to deliver a seamless service.
Covering all existing, occupied and new buildings, services include:
Capability to Support our FM Clients
Checkmate Fire's long history of working with FM clients - and on national framework agreements - has given us an in-depth understanding of the requirements of undertaking inspections and installations on a wide range of active and sensitive sites.
With specialist teams based out of six regional offices across the UK, we are large enough to offer complete nationwide coverage, with the local knowledge to tailor our services to suit the needs of each individual project, but deliver a consistent approach, whether the service is in Aberdeen or the City of London.
We offer set SLA's and commercials to fit with the solutions required, with a central helpdesk that accepts requests verbally, either directly from clients, or back to back with our FM clients' helpdesks.
For larger FM opportunities, we offer a single point of contact together with a senior sponsor, often from within our leadership team. This gives our FM clients the confidence in our service delivery, and the all-important reporting processes.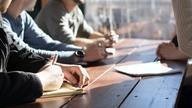 All our work is planned in conjunction with all stakeholders, including FM providers, contractors and on-site staff, with regular progress meetings to ensure projects are delivered smoothly and without any avoidable disruption.
We also offer our FM clients guidance through fire door and fire stopping CPD awareness programmes, helping to train teams of engineers and FM's in often remote, mobile based teams. This allows us to more fully support FM providers' own in-house capability, together with the assurance of our third party accreditation.
Thank you very much to your team! [They] carried out an excellent job, working on occupied office floor plate close to staff...who had nothing but compliments about your team. All areas were left in a clean condition, with the team vacuuming afterwards and all rubbish removed. Spot on, very professional!

Paul Miller, Compliance Manager, on Interserve
Challenges of Working in the FM Sector
There are a number of critical factors we consider when working in the FM sector. Being able to support a variety of end user needs on behalf of the FM provider is critical, and having flexibility within teams to react well to both scheduled and urgent events is key.
Clear, concise communication is vital, as often the original request for works will have gone through many stakeholders prior to the official request through the FM provider to us. We spend time understanding the end users requirements, making sure that our delivery satisfies both the FM request and the end user's needs.
With a host of differing environments, we provide wide ranging RAM's to ensure our people work safely on each site, adapting through site specific toolbox talks where required. All colleagues are DPS checked and we have a number of colleagues with full CPS clearances to enable services to be provided to sensitive locations.
Making Your Buildings Compliant
Checkmate Fire provide 3rd party certified firestopping services that allow FM contractors to achieve legal compliance and deliver healthcare, education and commercial property projects nationwide.
We support the growing CAFM requirements of FM providers and are an Elogbooks certified approved supplier under the Elogbooks Accredited User Scheme. We are proud to have achieved a wide range of additional accreditations which demonstrate our adherence to professional and quality standards.
Operating an internal compliance department to conduct additional audits on completed remediation and installation works, we work with you to deliver the highest quality standards on all contracts.
Third Party Accredited
Checkmate were among the first companies in the industry who identified the need to drive up standards and were one of the founding members of the BRE/LPCB passive fire protection certification scheme. And our experience of working in this standards-driven environment has been entirely positive; it ensures we deliver systems that provide the highest levels of fire integrity without any negative effect on the end client's chosen design scheme. In fact, there are even third-party accredited products that were developed to be aesthetically pleasing, such as fire-resistant glazed partition systems.
The third-party certification process works and is valued by building owners and insurers alike, giving them peace of mind that in the event of a fire, there will be time for evacuation plans to be executed and that the damage to their property will be kept to a minimum.
How do I know I need fire-stopping works completing?
Here are some questions to address when assessing your facilities' firestopping:
Where are there rated walls and floors in your building?
Are the penetrations and tops of walls sealed?
If sealed, what tested system design was used for the repair?
Does the repair match the tested system design detail?
Was the work carried out by a 3rd party accredited installer?
Have the correct products been installed?
The bottom line: Know what's going on in your building, and keep your eyes open for any changes in the fire-protection system that could weaken its efficacy.
Ongoing Maintenance
Our pre-planned maintenance package, Compliance+ fits well with our FM clients' service offering, and can be easily built into the overall PPM package.
Offering 3, 5 and 7-year inspection and maintenance programmes, Checkmate Compliance and Compliance +, we provide fixed price pre-planned packages to ensure compliant fire doors, and give you total peace of mind. For larger buildings, we even offer training to your existing managers to enable more frequent checks to go alongside our third-party accredited PPM schedule.
To learn more click below or talk to one of our specialists.