Protecting lives is at the heart of everything we do, which is why healthcare is one of our key sectors.
Having worked closely with the NHS, care homes, assisted living and private healthcare companies for over 3 decades, our teams are experts at navigating the fire safety challenges posed - primarily in safeguarding patients with a wide range of dependencies in the event of fire.
A full range of passive fire protection for the healthcare sector
Dedicated to supporting our NHS and healthcare professionals, our expert operatives have extensive experience working in open environments and on sensitive wards and sites across multiple locations, keeping staff, patients and assets safe, while providing safety critical works.
Covering all existing, occupied and new buildings, services include:
Our unrivalled knowledge means that we have the privilege of working with local and national organisations across the UK as we take a collaborative approach in everything we do to provide fully 3rd party accredited passive fire protection solutions on price and on time.
Challenges of Working in Occupied Healthcare Buildings
The majority of our healthcare contracts are within occupied buildings. From the urgent, busy nature of A&E and connecting ward corridors, along with critical areas in and around life saving theatre, to quiet family communal zones and ultra clean laboratories, Checkmate has a full surfeit of experience.
Checkmate's passive fire protection services to the healthcare industry takes into account the critical 'sleeping' component that applies to other industries we work in, such as hospitality and social housing, which makes these buildings more susceptible to fire hazards. It is therefore crucial for managers to make commercially sound investments for all premises.
Our unrivalled knowledge means that we have the privilege of working with local and national organisations across the UK as we take a collaborative approach in everything we do to provide fully 3rd party accredited passive fire protection solutions on price and on time.
Diligently working across all these areas, our teams fully appreciate the heightened need of the building users to ensure we work to the highest standards, with care, consideration and empathy.
We work with the healthcare teams to help make commercially sound propositions so the investments for all premises are made to deliver the best possible improvements in fire safety.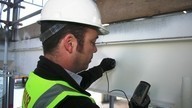 Thought I would drop you some feedback from the Ruskin Wing fire stopping works carried out by yourselves. We are pleased to report that the works have been carried out to a high standard with a professional approach. We look forward to working with you again in the very near future.

Michael Davis, Trust Fire Safety Compliance Manager, on Kings College Hospital
Care Homes and Assisted Living
Our works to care homes and assisted living communities are some of the most rewarding works we do. Providing services to over 90 buildings UK wide last year, we delivered numerous fire door replacement and remediation programmes, along with firestopping into demises and cavity barriers in rood voids.
Often with 'stay-put' policies in place, the need for effective passive fire protection in these environments is critical.
Collaborating closely with residents, we accommodate last minute changes and provide fantastic management and communication throughout the life-cycle of the project.
We strongly believe that courtesy goes a long way when working in and around someone's home. As something that cannot be taught, over 30 years of experience in the sector has ensured this is a workforce expectation here at Checkmate.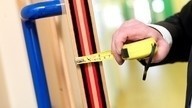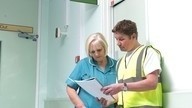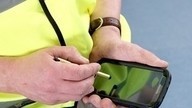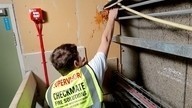 Addressing the Unique Nature of Healthcare Buildings
At Checkmate, we're of the firm opinion that prevention is better than the cure – and this is no exception in the healthcare sector (ironically)! Due to the size and complexity of a modern-day hospital or care centre, the option for reactive, complete evacuation of the building is neither practical nor appropriate.
The most common approach adopted in healthcare buildings is progressive horizontal evacuation, moving occupants from the fire-affected area, through a fire-resisting barrier to an adjoining area, which is designed to protect the occupants from the immediate danger of fire and smoke. The occupants then remain in the fire safe area (refuge) until the fire is extinguished or, if necessary, further evacuation is required to another refuge or down the nearest stairway.
With effective compartmentation and fire stopping measures already in place, this enables the progressive horizontal evacuation to take place while any fire is successfully contained.
Hospital Buildings
We provide works to over 100 hospitals every year. Not only a challenging environment in terms of building users, the built complexities of a standard NHS hospital are incredible, and probably more varied than any other sector.
The UK has a wide variety of hospitals, from newly built to a mix of very old and new on the same campus' as the hospital has expanded over the years. For firestopping and compartmentation, both new and old present challenges that need the expert care and attention to ensure we provide the right, compliant solution to keep the building safe.
Passive fire challenges in healthcare, although many, are not just centred around the original construction or design. The use of fire doors in hospital buildings is significant – busy corridors, beds and equipment being moved all impact the compliance of doors over time. Leaf gaps, thresholds and leaf damage are common in hospital corridor environments and require regular planned maintenance programmes.
Policies to Protect the Healthcare Environment
All workers are fully DBS checked
RAM's & CPD plans specific to the environment
Our policy on Safeguarding
Our Checksafe procedures and Health & Safety policy
Toolbox talks prior to works specific to site
Our senior management team's CheckSafe "Big 5" promise
Social value commitments (project specific)