Chief Development Officer
Driven by innovation, strategy and results, Gavin joined the Checkmate team in March 2019, with over 14 years FM experience across multiple sectors, working for some of the largest international service providers.
With an impressive list of awards and qualifications under his belt, Gavin began his career in 2000 in GE – rapidly working his way up through the ranks to become a regional manager. A green belt in Six-Sigma, Gavin pairs his thirst for new ideas with a strong understanding of the dynamic nature of service-led businesses.
He is hugely excited to be working in the fire safety sector, which is brimming with passionate people who really do want to make a difference to the safety of the built environment around them.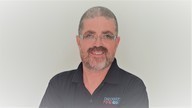 Down to earth, Gavin takes the time to understand our customers needs and challenges those around him to strive to find the right solution.
Fun fact...
Despite working for the worlds financial powerhouses, degree qualified in Environmental Science, Gavin has not left his "tree-hugging" days behind him and is actively involved in delivering "green" improvements to our business to create a more sustainable future for all.
With rapid passive fire industry growth, Checkmate Fire have been instrumental in shaping customer solutions and driving industry improvement. Continually emphasising the need for accreditation, we pioneer the way in which safety and quality of life saving services are delivered. We relish our customers' fire safety challenges, working tirelessly to improve the UK's built environment.