Chief Commercial Officer
With a Bachelor of Science degree in Civil Engineering (Commercial Management), Dave began his career as a quantity surveyor for Carillion in 1999, working on large infrastructure, new build and refurbishment projects across the UK.
Following a successful 9 years, Dave brought his expertise to Checkmate in 2008, joining us in the capacity of commercial manager. With a recession in full swing, Dave's abilities in opportunity selection, pricing and account settlement were key to Checkmate emerging out of the other side. This was rewarded when Dave was made firstly commercial director in 2012 and then northern operations director in 2013.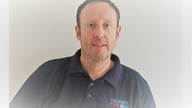 Hugely expanding Checkmate's capacity, service offering and turnover, Dave was appointed to the executive board in 2018, where he currently functions as our Chief Commercial Officer (CCO), overseeing all our projects UK-wide.
With a long and successful career at Checkmate under his belt, Dave's biggest corporate achievement with us so far is growing revenue in the northern part of the business by over five times from 2013 to 2018 and expanding capacity across the country with the opening of four regional offices.
Fun Fact...
Dave has followed his fifth love Bradford City from the old fourth division to the premier league and back again. The Checkmate rollercoaster does not compare to the twists and turns of Bradford City. Monday morning can sometimes be a relief.
The key to the businesses success has been how hard it has worked when times have been tough. Over a long period of time there will be bumps in the road be it recessions, pandemics or just wrong decisions. How you react during these times shapes the success when the corner is turned. As a business we have always reacted well to adversity.
Checkmate's Executive Leadership Team...