With extensive experience within student accommodation and parallel sectors, circa 90% of our business operates within occupied buildings, with more than 35% in buildings that are people's homes.
Keeping students safe is the priority at Checkmate. Whether we provide a survey or installation works we know everything we do within a University, College, PBSA (Purpose Build Student Accommodation) and School helps protect the lives of those studying.
In 2020, over a third of our business was delivered within these buildings, with the majority of our works within the accommodation areas, where students are potentially at the highest risk. We are proud of the fire safety improvements we are making in the student accommodation sector.
A full range of passive fire protection for the student accommodation sector
Dedicated to supporting our students and facilities managers, our expert operatives have extensive experience working in open environments and on sensitive sites across multiple locations, keeping staff, patients and students safe, while providing essential works.
Covering all existing, occupied and new buildings, services include:
The Importance of Passive Fire Safety in the Student Accommodation Sector
Often, as an individual's first time living away from home, the exciting world of independent study begins. It is so important that care is offered to our student population, providing them with accommodation that is at least as safe as their homes.
Checkmate has extensive experience within the PBSA sector, supporting providers to update and maintain PBSA buildings UK wide. We have delivered services to an incredible array of properties - both university managed and through private sector student accommodation providers.
Challenges of Working in Student Accommodation
Working within student accommodation presents a number of varied and exciting challenges for the Checkmate team, who are adept at ensuring solutions are compliant and delivered both on-time and to budget. Working in and around people's homes or places of study means we often do our best to deliver within tighter timescales, taking advantage of half-terms and summer breaks, adjusting our hours to provide works within less busy times.
Passive fire challenges in PBSA can be widespread, it is common to find poorly protected penetrations travelling between floors in plant rooms and risers, across corridors and into demises where services enter above flat entrance doors.
In areas where significant passive fire defects are found it is often the case that further destructive survey work can lead to works being required within the demises themselves to protect areas such as soil vent pipes. Fire doors, in often well populated areas, require constant vigilance around maintenance – we are finding buildings with more frequent, planned maintenance are extending the asset life-cycle of doors.
Our priority throughout works, especially in PBSA, is to provide a safe working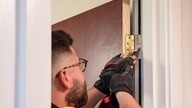 environment for our employees and the residents/users of the buildings. Following the CheckSafe safety code, our safety ethos is more than a health & safety policy, it is a culture.
Checkmate was awarded a contract to undertake the remediation of fire stopping in a number of academic buildings at the University of Hull. The works were undertaken in a professional manner and within the required time frame. We would have no hesitation in recommending them to others!

Ian Hughes, Fire Safety Officer on University of Hull
Extensive 3rd party accredited expertise
Understanding the importance of keeping our students safe, we deliver full turnkey solutions to ensure your buildings are compliant and lives are protected.. These methods include comprehensive surveys, compartmentation, and pre-planned maintenance, where we take away the risk for fixed-term contracts of 3, 5 or 7 years.
As a founding member of the BRE/LPCB scheme, all of our works are backed up by intense audits and continuous checks by our in-house compliance and assurance team. With a quality driven ethos and right first-time approach, we give you full peace of mind that our works are thorough, safe, and compliant.
From fire safety assessment through FRA's, to our detailed survey works, to delivering fire stopping, door replacement and remediation, you can be assured of the exacting 3rd party accredited standards Checkmate provide to this important sector.