Picture this; fire breaks out resulting in fire spreading throughout the building… Another unnecessary fire.
Fire doors, air-sealing, fire door maintenance and replacement, fire-resistant glazing, fire ducts and dampers, structural fire protection, compartment wall penetrations and fire-stopping, all these measures could have reduced the effect of the incident – including the possibility of an occupant being injured.
Put simply passive fire protection is about looking at the risks that arise in the building and then putting in place sensible passive-fire protection measures to control them. Passive Fire Protection is a fire safety solution, which embraces the passive measures in fire containment design to protect the integrity of the building and provide enough time for its occupants to escape in the event of a fire. These measures, when installed to the highest standard and fully certificated attempt to contain fires or slow the spread, through use of fire resistant walls, floors, and doors, among other examples.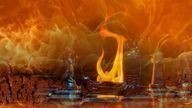 However, buildings are often not protected with appropriate passive fire measures, or segmented with effective firewalls/compartments with the aim of reducing heat conductivity or the chance that fire and smoke will spread to valuable assets – both in the form of people and property.
We have a wealth of experience providing and installing passive fire protection products and services to help prevent accidents and losses occurring. Protecting your premises or that of your clients through quality passive fire protection should be viewed not as a cost but an investment/an insurance policy that saves property saves your reputation, saves your brand if and when disaster occurs – if saving lives is not motivation enough.
Do you have a project that you need our assistance on? Or, would you like a passive fire survey for peace of mind? Why not get in touch.