For 30 years, Checkmate Fire's number-one priority has always remained the same: to provide the most ethical, reliable and quality service in the passive fire protection industry – all the while adding value to our clients' bottom line.
Within that time, we've developed a name for sticking to these core values, and in the process, we've become the UK's largest passive fire provider.
However, as a company, we realise that to safeguard our position as market leaders – in the increasingly fast-paced world of construction – we must invest time and capital into our own, long-term development. Not only does it impact on our internal technical knowledge, it raises the quality of our processes and customer service too.
Introducing our internal compliance team
In October 2018, we hired an internal team of technical compliance auditors, to further advance our already market-leading quality levels.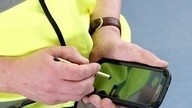 For the past eight months, our internal compliance department has helped us to go above and beyond the standards set by industry bodies and provide both double the protection and double the value to our clients.
The emergence of digital reporting
But we recently spotted another opportunity for empowering our clients, by removing the headache often associated with fire-safety reporting.
Of course, 'being digital', in the construction industry isn't always easy – with our clients often having multiple data users and assets/sites to coordinate. But, with the world around us advancing at pace, it is progressively becoming more so, with technology becoming a solution for many industry problems.
We therefore decided to invest a significant sum of capital into our own in-house digital tool, for the management of all of our technical documentation.
The technology can be used seamlessly across all devices, including smartphones.
Overseen by our technical and compliance manager, Damien Ward, the software is revolutionising the way we work – and simultaneously delivering that all-important value for our clients.
The benefits
The commercial reality is a solution which allows us to robustly store, track and triangulate the rich, accurate client data that we collect as part of our inspections.
Championed by all of our staff, the digitisation project has taken us from utilising a system which produces basic reports, to one which delivers numerous benefits for clients.
They include:
Instant, 'real-time' access to online reports
The nature of our functionality means that the technology handles previously time-intensive report processes in seconds.
Quick and easy search functions
The system stores data according to dates and functionalities, ensuring that clients can now carry out checks, at speed and with ease.
Safe data storage
The dedicated environment within which the data – and photographic evidence – is held, is highly compliant with security accreditations and certifications, minimising the possibility of losing the paper trail.
This is vital for contractors and developers to demonstrate that all fire risk assessments and installations required of them, have been completed. Should there be an incident, for example, it removes any risk of culpability and provides customers with peace of mind.
These threefold benefits have been well-received by clients, as they allow them to focus on the implementation of more value-adding functions, within their organisations, opposed to lengthy – and therefore costly – administration tasks.
Damien commented: "Nowadays, we all have smartphones – there's an app for almost everything that you can think of. So, we knew that by reducing the amount of paper we use and moving into the digital era, we could dramatically increase efficiencies. We listened to our customer's needs, embraced their requirements and developed an app accordingly."
Contact us on 01422 376436 or via the website for more information about the services provided by Checkmate's Technical and Compliance team.