It's results day for the nation's GCSE students, and in spite of the unprecedented times our youth are experiencing, we want to say a huge congratulations to our former work experience student, Conor McBride!
Following an intensive week with our Harlow based team in summer 2019, Conor designed and delivered a brilliant presentation on Checkmate's capabilities, finishing off by expressing his desire to join the fire safety industry as a direct result of his time with us.
One year on, having aced his core subjects in the midst of a global pandemic, Conor has enrolled with Anglia Ruskin College to become a fire fighter and help to improve the safety of our built environment.
Sending us a copy of his results, after receiving them online at his home, Conor sent us a short note expressing his gratitude: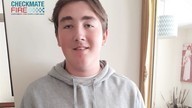 "Thank you for letting me do my work experience at your company. I enjoyed my time there. My next chapter is to go to College and become a Firefighter. I will be doing public sector for 3 days a week and looking for a part time job for the remainder days.
Once again, thank you to everyone for their kindness and support and making me feel welcome."
Amazing news, Conor, we wish you all the best!
Dedicated to integrating the next generation of fire safety professionals into our critical industry, please don't hesitate to get in touch on communications@checkmatefire.com if you're interested in a work experience placement with us.