As part of our corporate volunteering policy, we have teamed up with Candlelighters – a Yorkshire based charity who have been helping children with cancer and their families since 1976.
Dedicating 20 hours per employee per year to volunteering initiatives, our Head of HR, Natalie Toas, and Marketing Manager, Hannah Hopkins, met with our Candlelighters reps and children's Oncology staff at Leeds General Infirmary yesterday to discuss our first collaborative project.
With one shared outdoor space for children across the cancer, isolation and bone marrow transplant departments, we have been tasked with completely revamping the 'garden', turning it into a bright, fresh and 'funky' outdoor space that the children can make into their haven.
With several obstacles to overcome – including very limited access to water - we are looking for as much help as we can get with this worthwhile project.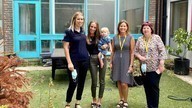 This means bright garden furniture, plant pots, artificial flowers – anything that can keep the garden looking as cheerful as possible all year round!
With covid regulations changing slightly, we are also hoping to run workshops with some of the children, so they can help put their own stamp on this space!
If you know of any business or individuals who want to join us on this worthwhile venture, please get in touch on communciations@checkmatefire.com - we will also be setting up a JustGiving page for anyone who wants to contribute.
Watch this space for transformation shots!