It's National Apprenticeship Week 2023, with the theme this year focusing on developing 'skills for life' – and at Checkmate, that's exactly what we want to do.
Celebrating the thirst apprentices adopt to forge a career for themselves, coupled with new regulations supporting the growth of the fire safety industry, we think this area of construction is exactly where new trainees should want to be…
Meeting New Regulations
With the implementation of the new Fire Safety (England) Regulations, focus on ensuring our built environment is compliant is at an all-time high – and that's why we are keen to bring new and fresh insight into our industry. And what better way to do this, than by training up the next generation of industry front-runners?!
In fact, following on from these new regulations – alongside more businesses adopting Dame Judith Hackitt's 'common-sense approach' - the global passive fire protection market is predicted to grow from $4bn in 2021 to $5.4bn dollars by 2028 (according to Fortune Business Insights). This means that for those passionate individuals who are looking to gain skills for life, the fire safety industry is one of the hottest choices around (excuse the pun, we can't help it).
Trainee Success Stories
While there is no official scheme for apprenticeships, Checkmate has developed and implemented a two year 'Passive Fire Training' course, centred around active labour within the workplace. Recruiting brilliantly placed trainees from across the nation, this bespoke course has been designed to provide both on-the-job experience and the relevant qualifications.
Qualifications include:
NVQ Level 2 in Passive Fire Protection
SSSTS
PASMA
BRE recognition in:
- fire door installation, repair and maintenance
- fire stopping & compartmentation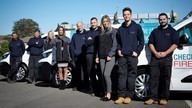 Since the implementation of this customised course in 2019, we have had over 20 trainees join the programme, with 11 of them already progressing on to the next stage of their career at Checkmate. These roles now include fire protection technicians (levels 1 and 2), site supervisors, and surveyors! Providing all trainees with a solid foundation of industry knowledge and expertise, this course can be the steppingstone to any relevant career within fire protection…
Introducing the Checkmate Academy
In addition to our bespoke, 2 year trainee course, Checkmate is also committed to facilitating the continuous improvement of our people.
This includes a significant investment in training, alongside mandatory ASFP course completion for all our colleagues. And now there's more…
Dedicated to bridging the nation's construction, fire protection, and engineering skills gaps and protecting the future of tomorrow's generation, we're delighted to announce the upcoming launch of our brand-new training academy!
Conveniently located in Sheffield, this state-of-the-art academy will serve as a base for all trainees and anyone interested in joining the industry. Providing prospective employees with the option to see what fire protection entails, along with upskilling our current workforce, we are so excited to see where this leads.
This facility will also be used as the 2nd home of our sister company, Rosse Systems. To get Rosse's side of this story, check out the news article on their website!
Checkmate's CEO and champion of our people, John Lewthwaite, said;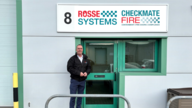 We are so thrilled with the launch of the new Checkmate Academy. Ensuring the continued competency of our workforce, along with creating new jobs across the country, this is a brilliant investment in the next generation and the future of our industry.
Keep your eyes out for more information, and don't hesitate to get in touch if you want to find out more about joining Checkmate – as a trainee, or just to further your career.