Due to their continued growth and commitment to delivering first-class active fire and security solutions, our sister company, Rosse Systems, is delighted to announce the opening of their second office premises, near the fantastic city of Sheffield!
Over the last few years, Rosse Systems has successfully delivered numerous projects across Yorkshire, Derbyshire and Lancashire, seamlessly adding to their already robust portfolio of work across all aspects of our business. This body of work and their overall influence in these regions have shown no signs of slowing down, providing them with a solid platform to make this exciting decision.
Opening their new office in the strategic location of Sheffield will enable Rosse to expand their service delivery into areas such as South Yorkshire, Derbyshire, Nottinghamshire, and the East and West Midlands, providing active fire and security solutions to multiple sectors, including:
Heritage Buildings
Education
Facilities Management
Local Government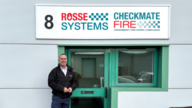 Group CEO, John Lewthwaite, had this to say about the opening of our new office:
The opening of our brand-new Sheffield office will allow Rosse Systems to provide exceptional local coverage to our customers, whilst strengthening current and future projects across multiple regions. The decision to establish a presence around Sheffield builds upon our strategic plans for continued growth and development, along with bringing a surge in employment to the surrounding areas"
Whatever your active fire or security concerns are, and whatever type of building you're responsible for, Rosse's vastly experienced contracts managers and on-site teams will know how to remedy them with the minimum disruption to your day-to-day operations, delivering services such as: