Continuing to invest in the training and development of our colleagues, we're delighted to finish 2021 in style – with a veritable bouquet of new qualifications and accreditations!
As an ongoing process, we ensure that our people have the opportunity to further both their careers, and their expertise within the business. Through additional training and qualifications, we aim to have the most motivated and knowledgeable team possible – and we're making some great strides.
So, please forgive us while we blow our own festive trumpet a little. Here are some recent achievements from within the ever-expanding Checkmate team:
IOSH Managing Safely:
Huge congratulations to Joe Stevens, Joshua Fish, Hayley Goodall and Darren Dean on achieving their IOSH Managing Safely accreditation.
The Institution of Occupational Safety and Health (IOSH) is the world's largest health and safety membership body, with over 44000 members in 99 countries.
As a three-day course, 'Managing Safely' provides our contracts managers and supervisors with the knowledge and skills they need to manage health and safety within their teams, covering responsibilities such as hazard identification, assessing and controlling risks, accident investigation and measuring performance.
Subsequently, this gives managers the confidence to drive health and safety performance within their teams and to improve the health and safety culture of their organisation as a whole.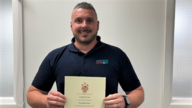 Darren, Joe, Hayley and Josh have been working hard developing their health and safety knowledge and they fully deserve the recognition achieved on successful course completion! This process will help improve the safety awareness culture in Checkmate and across our nationwide sites.

- Colin Campbell, Head of Health and Safety
ASFP Level 1 in Passive Fire Protection
'The Association for Specialist Fire Protection Foundation Course in Passive Fire Protection' provides essential knowledge and understanding in this key fire protection specialism.
In addition to our site staff and management, we are dedicated to ensuring all our administrative and commercial colleagues are fully aware of industry standards. We think it's important for everyone in our business, whatever their role, to know what we do and why. As a result, we have a fantastic 100% pass rate - with almost everyone in the business taking the exam within their first 3 months at Checkmate.
CHAS
Congratulations to our incredible active fire counterpart, Rosse Systems, who have been successful in receiving a full CHAS accreditation renewal.
The Contractors Health and Safety Assessment Scheme (CHAS) are the UK's leading authority on health and safety and compliance, and provides reassurance to our clients that health and safety is of the upmost importance.
As a keen believer in championing continual progression and internal development, CEO, John Lewthwaite stated;
At Checkmate, we are committed to investing in people and automating the heck out of everything. This is something we've really built upon over the last 18 months, and we look forward to even more success in the New Year. A big well done to all our dedicated people who continue to demonstrate the Checkmate Way!