At Checkmate, protecting lives, buildings and communities is at the heart of everything we do. With social housing as one of our key sectors, we are delighted to announce that we have been appointed as passive fire contractor on 4 of the Hyde Fire Safety Framework Lots.
Achieving second place on all national fire door remediation works, encompassing the North, Midlands, Wales, Southwest, South, and East, we also hold prominent positions for fire stopping, fire door inspections and fire door replacements. Delivering critical fire safety works across the nation, we will be collaborating closely with all contract stakeholders over the next 4 years.
Committed to improving quality of life for more disadvantaged societal groups, Hyde is one of the largest housing associations in England, managing circa 50000 homes across the nation. Renewing and updating the previous 4-year fire safety framework - alongside Pretium and Frankham RMS - this bespoke agreement was designed to allow easier access to service providers to deliver fire safety related work.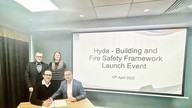 Checkmate's framework lead and Senior Business Development Manager, Caroline Walters, said, "We are so proud to deliver such vital works across the Hyde Group Fire Safety Framework. Significant long-term contracts not only benefit us, but also our supply-chain partners and employees. We are incredibly excited to add the Hyde framework to our long-term portfolio, ensuring we can invest in our people, and deliver a safer Britain."
With residents and communities desperate to feel safe, passive fire protection for social housing is fundamental to saving lives, protecting homes, and restoring compliance to our built environment.
Having extensive experience providing bespoke passive fire protection solutions to the housing sector, Checkmate's clients benefit from the fact that we have been doing it right for over 30 years. With circa 80% of our works delivered within occupied buildings, our expertise ensures the provision of a more sustainable future for social housing, keeping homes safe and sound, and extending their lifespan.
Expressing his passion and enthusiasm for the works ahead, our Chief Development Officer, Gavin Slattery, stated, "We are enormously excited about how our relationship with Hyde will develop over the coming years, and how we can continue to contribute to the fire safety of the social housing community. As with any contract of this nature there will be challenges ahead, but we look forward to every one of them. This was a huge team effort, and our thanks goes out to everyone involved!"
With the mobilisation phase set to begin this month, watch this space for more exciting news!
Other Housing Frameworks include:

- Fusion 21
- LHC
- ProcurePlus
- Trivallis
- Network Homes
- Optivo