Huge congratulations to our Commercial Director, Craig M Bendall, for being promoted from commercial manager within his first 4 months at Checkmate!
With more than 33 years' commercial experience in the construction industry, Craig began his career as a quantity surveyor in 1988 at Henry Summers Hamilton Ltd (Bristol) at the tender age of 15. Joining a small, family run building business, he threw himself into everything the firm offered, from architecture to Z bars, alongside studying quantity surveying, construction management and construction law for 8 years at Brunel.

Moving to a larger national business, in 1996 as part of a management training programme, Craig rapidly progressed from contract managing to commercial management, where he moved to several locations, including London, Doncaster and Cardiff, before settling in the midlands with his childhood sweetheart-turned-wife.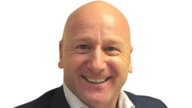 Working for several tier 1 contractors, including Mitie and Kier, Craig rapidly built his reputation as a 'problem solver', specialising in contracts and dispute issues and resolutions. Hailed as the 'man with the Midas touch', he is especially partial to a challenge, turning struggling projects into winning contracts.
Leaving the corporate grind to work for himself in 2016, Craig became a consultant to spend more time with his family, before bringing his expertise to Checkmate at the end of 2020 as our commercial manager.
Having only just embarked on his Checkmate journey, Craig's biggest success with us so far is being promoted to commercial director within 4 months at the business – good going!
As a dedicated family man, a keen DIY-er and ice hockey player, Craig also collects animals. Already owning several horses, dogs and a cats, he's got plans in the works to build on the menagerie very soon…!