Checkmate Fire, the UK's largest supplier of passive fire solutions, has appointed a regional manager, amid the firm's expansion into Scotland.
Having previously worked as a quantity surveyor at two passive fire specialists, Martyn Robinson brings over five years' experience in managing commercial projects.
He is set to head up Checkmate Fire's expansion into Scotland. The firm's launch into the region comes on the back of consistent year-on-year growth, underlining an outstanding period for the company. It is Checkmate's fifth regional office throughout the UK.
Martyn's new role will involve securing and overseeing contracts across Scotland for the companies comprehensive range of built-in passive fire protection services. He'll also be responsible for the medium- to long-term recruitment of contract managers.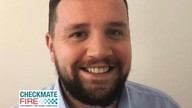 Commenting on his new position, Martyn said: "I'm looking forward to leveraging my regional experience to launch Checkmate's operations in Scotland. They have a UK-wide, renowned reputation within the industry and I've always admired their commitment to quality – which is well-aligned with my personal values.
"I'll be managing all enquiries from the concept stage, through to delivery. We also have plans set in motion to recruit additional team members, which will ensure our continued growth throughout the region."
Expansion Strategy
The expansion into Scotland is part of Checkmate Fire's strategy to open offices across the length and breadth of the UK, adding capacity and increasing the ability to serve clients more quickly and easily.
Talking about his firm's growth, Mark Williams, CEO of Checkmate said:
"Unfortunately, if you pick up any local newspaper, on any given day, the likelihood is that there'll be a story about a fire. They can so easily happen, and yet, if a building has the right processes and fire-stopping products in place, they can be easily-managed.
"More and more organisations are realising the vital importance of improving the safety of their buildings, so the demand for our services is always on the rise. We're here to safeguard people, and therefore our growth can only be a positive thing for the UK public. The move to the north is a natural progression for Checkmate, driven by the national contracts that we've secured, so it makes sense to develop our presence in the region."
Established in 1989, Checkmate Fire also has a compliance division which improves building safety and a solutions department which specialises in the accredited installation of residential and commercial passive fire solutions. Its other offices are based in West Yorkshire, Harlow, Swindon and Leicester.