With yet another successful year drawing to a close, we wanted to look back on all that 2019 has brought us, as well as casting a quick eye over what's to come in 2020.
What we've achieved in 2019
Not only have we been extremely busy working alongside our clients to provide the high quality passive fire protection and fire stopping measures that they require this year, but Checkmate Fire have also been pushing ourselves internally as a business – looking to constantly improve our already high standards.
Underlining that point, Checkmate have secured further accreditations this year and introduced an app to help solidify our reputation for quality and compliance.
On top of our already considerable collection of accreditations and certifications, we were this year awarded the ISO27001 International Information Security Standard. Proud of the security with which we operate, companies that are awarded with ISO27001 are able to demonstrate that they can secure information in all of its forms, increase their resilience to cyber-attacks, adapt to evolving security threats and reduce the costs associated with information security.
Additionally, we built and released an app that was spearheaded by our own internal compliance team which allows us to robustly store, track and triangulate the rich, accurate client data that we collect as part of our inspections. A large scale digitisation project, Checkmate are always looking to innovate and improve wherever possible.
In 2019, our reach was broader than ever. Not only did we attend multiple trade shows and exhibitions, we also appointed a regional manager and expanded in to Scotland for the first time. Headed up by Martyn Robinson, we want our services to be available across the entire length and breadth of the United Kingdom, and this is yet another step toward that.
One of our biggest successes this year has been the creation and implementation of our first trainee scheme. Having identified that the passive fire protection industry had room for improvement in regards to apprenticeships, the HR department at Checkmate Fire created a 12-24 month trainee scheme to help introduce fresh talent to both the company and sector. With 17 trainees already on board, this is an initiative we're excited to grow even further in 2020.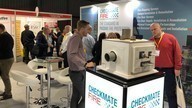 A look ahead to 2020
Building on the momentum gathered throughout 2019, Checkmate will be looking to expand on all of our hard work in 2020. Having successfully opened our fifth regional office in Scotland, a site in Redhill is going to follow in January, helping us to further expand our horizons.
We will be looking to win even more contracted work, bringing both our expert Checkmate passive fire protection and fire stopping measures to as many buildings and businesses as possible, as well as further integrating Alufire products in to what we offer.
We hope that 2020 brings both ourselves and our clients the same level of success and satisfaction as 2019 has, if not even more. Until then, Merry Christmas and a very Happy New Year from us all at Checkmate Fire.