Huge congratulations to our colleague Kieran Carlisle on being shortlised for the ASFP's Rising Star of the Year Award!
We are delighted to announce that our very own Kieran Carlisle has been shortlisted for the Individual Rising Star at the prestigious Association for Specialist Fire Protection (ASFP) Awards taking place on 26th November 2021.

Joining Checkmate Fire in 2017, Kieran rose quickly from his initial role as Graduate Contract Manager to his current role as Senior Contract Manager.

As a real self-starter, Kieran has fully taken advantage of all the training opportunities that have been available to him to increase and expand his knowledge of the passive fire protection industry.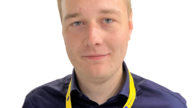 Although all Checkmate team members have these training opportunities, Kieran has chosen to capitalise on them, increasing his ability to add value to the business and he has been rewarded by receiving a quick succession of role promotions.

Kieran is on the road to becoming a future leader not only within Checkmate but also with the passive fire industry.

Well done for being shortlisted Kieran, the whole team is behind you.