As part of our corporate volunteering policy, we have teamed up with Candlelighters – a Yorkshire based charity who have been helping children with cancer and their families since 1976.
Dedicating 20 hours per employee per year to volunteering initiatives, Checkmate has been working with our Candlelighters reps and children's Oncology staff at Leeds General Infirmary since July.
With one shared outdoor space for children across the cancer, isolation and bone marrow transplant departments, we have been completely revamping the 'garden', turning it into a bright, fresh and 'funky' outdoor space that the children can make into their haven.
Collaborating with The Arium – a local garden 'nursery', we have planted circa 100 bulbs, shrubs, succulents and low-maintenance flowers – and we cannot wait to see how this looks in the Spring!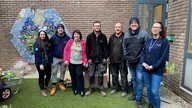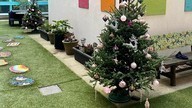 With our third visit taking place earlier this month – we were even able to turn the garden into a makeshift Santa's Grotto – full of Christmas lights, trees, and all things sparkly! Communicating through the windows with the children, they were able to direct us from an aesthetic standpoint, making sure we used the right decorations!
Already planning our next visit, we will be turning the walls into a rainbow, revamping the astroturf, fixing door hinges and replacing the coloured chipboard blocks…we are also hoping to run workshops with some of the children, so they can continue to put their own stamp on this space!
For most of the patients and families who get to use or see this garden, Christmas will be very different this year. Some of the children, unable to breathe in the unfiltered air, can only look at the garden - and this is why we are dedicated to ensuring they can at least experience visual beauty.
Always looking for local businesses to assist with furniture donation or garden maintenance, please get in touch on communciations@checkmatefire.com to express your interest.