Interior glazed partitioning is a growing trend in commercial office interiors today and for good reason. An array of new capabilities is possible with glazing that is fire resistant, sound suppressant, and capable of reducing heat transfer.
The versatility and adaptability of Alufire glazed solutions have multiple benefits in numerous settings because of its potential to increase productivity, occupancy satisfaction, and the general health of people living, working, or visiting in intelligently, naturally lit locations.
Exposure to natural light has been directly linked to greater workplace performance, with the absence of windows positively correlated with workplace stress. A study into the psychological aspects of lighting by B.L. Collins found that 35% of employees instantly identified the absence of natural light as the major concern associated with their office environment, resulting in feelings of isolation, tension and claustrophobia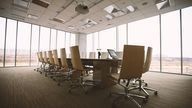 In a world increasingly driven by deadlines and targets, greater emphasis than ever is being placed on reducing stress in the workplace. Exposure to natural light has been identified as one of the major sources of psychological comfort and so the windows used in commercial buildings can have a direct impact on productivity.
Creating entire buildings using a glass structure can be an effective way of maximising natural light. Glass systems, such as the Alufire Vision Line glazing system, can be used to provide a flush glass surface by fitting individual glass panels in direct contact with each other and the resulting gap (ca. 4mm) filled with non-combustible silicone instead of the more conventional framed systems. Due to their stability, these systems allow architects to build entire facades out of glass, enabling design flexibility to create bright and highly attractive working environments, with more light and a greater feeling of space.
In environments where noise can be a distraction, Alufire is a high-quality acoustic glass that offers excellent noise reduction without compromising on light transmittance. This enables workers to benefit from maximal daylight while avoiding the negative impact of potential noise pollution.
Solar control glass, such as Alufire can also be used as an attractive feature in office buildings whilst optimising natural light. A high-performance glass that reflects solar radiation, Alufire provides an attractive finish that minimises the need for air conditioning, resulting in a comfortable working environment without sacrificing daylight.
You can also take satisfaction in the fact that it is not only money you are saving. Using energy-efficient Alufire glass from checkmate Fire will reduce your building's CO2 output, making your carbon footprint smaller and your building more environmentally friendly.
Comfort in the workplace is an ongoing point of focus and the maximisation of natural light can make all the difference when it comes to employee wellbeing.