The style and beauty of glass walls enhance any space. Alufire has combined the beauty of glass with the functionality of fire-rated partitions in a range of glass wall partitions, doors and windows.
It goes without saying that fire safety is of high importance in any building.
Advanced fire technology now means that transparent fire screens and doors can be implemented to segregate escape routes, common areas and staircases. Fire-rated glass makes an ideal alternative to standard steel or wooden fire doors, perfect for modern offices that don't want solid fire doors disrupting their bespoke designs.
Not only does this provide particular aesthetically pleasing benefits, but also contributes to the safety aspect. Through transparent doors and screens, it's easier to identify the location of flames and smoke, to help plan out a more successful escape plan, avoiding areas which appear to be affected and identifying any potential dangers ahead.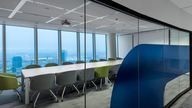 This is why it's crucial to ensure that glass has an E classification, as this should remain transparent when subjected to heat and fire.
Improved aesthetics and the benefits of natural light
Modern buildings rely increasingly on the provision of natural light to the core of the building through internal atria capped with glazed roof areas. Subject to the fire strategy of the building, fire-resistant glazing may be required for internal atrium walls to provide compartmentalisation, yet allowing natural light to penetrate deep into the building. Where external facades require fire protection, for means of escape or boundary wall application, fire-resistant glazing can equal the aesthetic and thermal properties of any non-fire rated glazing system.
The use of fire resistant glazing in modern buildings allows light and vision, improving the user experience whilst protecting against the threat of fire.
Major benefits of introducing glass office partitions to a workplace
Natural light– Commercial partitions of glass maximise the impact and dispersion of natural light, particularly when using clear plate glass that creates an astounding effect of open space. Adding glass partitions to a workplace provides an increased positive mood, additionally saving money by the increased use of natural light, boosting the impression given to clients and cutting down on your energy expenditure.
Cost-efficiency – Glass partitions not only save on your energy costs, they could also make any future expansion or reconfiguration of an office easy and cost-efficient. Glass partitions are easy and quick to install providing effective division of space that requires little or no structural modifications. – Again an added cost saver.
Privacy– Glass office partitions are successfully used to create a space with privacy within a busy office environment. They can be provided with a frosted effect section for a bright modern effect. The assistance in lowering noise levels is a distinct advantage, In fact, Alufire glass partitions are some of the most effective at preventing noise pollution.
Office workers with more light exposure at the office had longer sleep duration, better sleep quality, more physical activity and better quality of life compared to office workers with less light exposure in the workplace, reports a new study
Design and safety in mind
We applaud architecture built on innovation. With Alufire we have enhanced the relationship between form and function. The Alufire systems are produced bespoke for your needs, delivered as complete units, for added safety and installed by our specially trained technicians.
Office buildings, museums, hospitals, apartment blocks and homes all now benefit from the fire-resistant properties of Alufire glazing. Refurbishment schemes great and small similarly benefit from the introduction of such modern materials designed to meet the most stringent of fire regulations.
Internal spaces become lighter and brighter with the use of glass balustrades, partitions and atriums but in response to increasing demands for glass to provide a passive fire-resisting barrier, there are many products and styles to consider.
Are you considering fire-rated glass for your next project? feel free to drop us a line – and don't forget to follow our LinkedIn page to stay up-to-date with new innovations and trends.