ALUFIRE is the first manufacturer to introduce a new system of fire resistant walls made entirely of glass – ALUFIRE Vision Line.
Since the system does not feature aluminium profiles, the individual glass panels can be placed in direct contact with each other and the resulting gap. As a result, one smooth glass surface is created along the entire width of the wall, with no visible dividing elements allowing architects and designers greater scope when considering glazed partition systems.
All components of the ALUFIRE Vision Line system have been fire tested by the Building Research Institute (ITB) and are available in three fire resistance classes: El 30 and El 60 and El 120.
Continuous investments in the production stage and strategic collaborations with the best material suppliers, sourced right across Europe, ensure that Alufire products are second to none for quality and performance.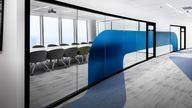 These Qualities are at the centre of our core values at Checkmate Fire, which is why we are proud to be the sole distributors and certified installers of Alufire systems.
Installation can only be carried out by Alufire trained and certified installers, none of the excellent properties of the products are compromised due to poor installation techniques.
Our dedication to quality and our 20+ year market presence ensure our product efficiency and the company's effectiveness.
As the Alufire solutions can be designed to fit any shape we are ready to fulfill all needs and expectations.