When considering integrated whole-building design and energy efficiency, choosing the appropriate glazing solutions is critical. The ideal glazing solution is one that permits the greatest amount of natural light to enter a building while reducing or eliminating solar radiation and solar heat gain.
This solar control can help maximize building energy performance, allowing warmth to enter during the winter, while also keeping the building cool in the summer months – reducing the energy load on your HVAC equipment.
Whether you're designing or building commercial offices, a school, or a healthcare facility, it is proven that allowing abundant daylight into interior spaces and providing a visual connection to the outdoors increases productivity, promotes healing, and improves the overall mood of the occupants. In fact, studies have shown that living and working in buildings illuminated by natural light can improve concentration and increase productivity.
Alufire fire-rated glass solutions are an excellent way to incorporate daylighting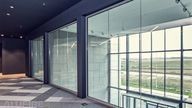 into a building's design with the additional benefits of acoustic and heat insulation – without compromising safety in the event of a fire. This is why many builders and architects have started working with Alufire, from Checkmate, as fire-rated glass promotes the use of natural light while constructing a sustainable and soothing environment.
By putting Alufire's high-performance, multipurpose fire-rated glazing products to use, architects and building teams can offer further sustainable design goals in areas with stringent fire and life safety code requirements.
Protecting people and property from the hazard of fire is the key objective of Alufire's fire-resistant glazing systems and one of the benefits is the ability to provide transparent building compartmentation.
Providing specifiers with the ability to subdivide spaces not only harnesses natural daylight and overall design goals but acts as a crucial defence mechanism by allowing parts of the facility to be protected by fireproof glass walls, an ideal solution for schools, corporate offices and hospitals to name a few.
Today, there are many ways design teams can use fire-rated glazing to enhance transparency and create the feeling of open, shared spaces including; incorporating fire-rated glass panes in central corridors and communal areas, using expansive fire-rated glass curtain walls to draw the line of sight through nearby expanses of glazing and incorporating fire-rated glazing in fire-rated doors to promote visibility between spaces.
The possibilities are endless, the benefits plentiful.