Raising £400 for The Children's Trust - a whopping 160% of our original target - Checkmate's Big Pub Quiz went down a storm this weekend, with Checkmate donating a further £400 to match the funds raised.
Huge well done to our winners, the aptly named "I'm Getting Another Drink" team, Natalie Toas, Sarah Craddock, Kirsty Smith, and Jennifer Demaine. Not only did they show very impressive knowledge, but they also displayed great generosity, donating their prize - a top-of-the-range Kindle Fire - to the Trust.

Mixing corporate social responsibility with some much-needed fun (and maybe a little bit of wine), it was a brilliant start to VE bank holiday weekend. Massive thanks to The Children's Trust for giving up their evening to host!

Checkmate's CEO, John Lewthwaite, said, "what a great night we had at Checkmate's Big Pub Quiz, for such a worthwhile cause, thanks to all those who joined in and made the night so enjoyable…"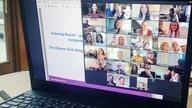 Kicking off our partnership with the Trust in style, we can't wait to work with them further, helping the UK's leading charity for the care, education, and support of children with brain injury and neurodisability.
The Children's Trust's specialist care provides vital information, community support and intensive residential rehabilitation to those children who need it most. Throughout the COVID19 crisis they have been doing everything in their power to take more children and free up precious NHS beds, as well as protecting the vulnerable young people from COVID19.