It is important to understand that more than one piece of fire safety legislation and/or fire safety guidance can be applied to any individual premises.
For instance, take a school: The Regulatory Reform (Fire Safety) Order 2005 and the Health and Safety (Safety Signs and Signals) Regulations 1996 applies and there could be others.
The Truth About Changing fire-risk of high-risk premises such as sleeping areas in hotels
Fire Safety guidance documents including Guide 5 – Educational premises,
Guide 1 – Offices and shops,
Guide 6 – Small and medium places of assembly or
Guide 7 – Large places of assembly may apply and if the school is a boarding school then
Guide 3 – Sleeping accommodation could apply.
The most appropriate guide for Hotels, Boarding Houses and like Premises is likely to be Guide 3 – Sleeping accommodation.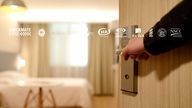 So what does this mean to you?
This guide is for all employers, managers and owners of premises providing sleeping accommodation. It tells you about how you might comply with fire safety law, helps you to carry out a fire risk assessment and identify the general fire precautions you need to have in place. It applies to premises where the main use is for sleeping accommodation. The premises addressed in this guide include:
Guesthouses and bed and breakfast accommodation;
Hotels and motels;
Hostels, e.g. Y.M.C.A., Y.W.C.A., youth hostels, bail hostels or homeless persons accommodation;
Refuges, e.g. family accommodation centre's, halfway houses;
Residential health and beauty spa centres;
Residential conference, seminar and training centres;
Student halls of residence and areas of sleeping accommodation in other training institutions including military barrack style quarters;
Those areas of buildings in boarding schools that provide sleeping accommodation; seminaries and other religious colleges;
The common areas of sheltered accommodation, where care is not provided (where care is provided, see residential care guide);
Holiday chalets, holiday flat complexes, camping, caravan holiday parks (other than privately owned individual units); and
Areas in workplaces, where staff sleeping-in is a condition of the employment or a business requirement, as in licensed premises and hotels (but not including tied accommodation such as separate flats, houses or apartments)
Why?
You need to understand how to avoid fires and how to ensure people's safety if a fire does start. Why should you read it? Because:
Fire kills. Fire and Rescue Service attend thousands of major fires annually. Every year thousands of people end up as casualties in incidents which occur in domestic and non-domestic premises and tragically a small number are killed as a result of a fire.
Fire costs money. The costs of a serious fire can be high and after a fire, many businesses do not re-open. Every year insurance companies in the UK pay out hundreds of millions of pounds for damage caused by fire.
Fire Risk
Hotels and Boarding Houses are considered to be a high fire risk, because of the life risk Fires usually occur as the result of carelessness and if some person accidentally or deliberately negates the fire precautions. This can result in serious fire situations causing the possible loss of life and the owner's business being threatened. The risks are similar to those in domestic property however the level of risk varies dependant on the number of staff, guests and as the premises are occupied twenty-four hours a day, this increases the risk.
The five principle fire risks are:
Carelessly discarded smoking materials if it is allowed to come into contact with combustible materials. A lighted cigarette end will take a long time to ignite combustible materials, which may occur in the sleeping hours, thereby increasing the risk. Hopefully, the fire detection system would give an early warning of fire, which will not stop the fire but could reduce the damage to negligible losses. The use of signs and the prohibition of smoking in risk areas would reduce the risk and constantly broadcast the dangers to the staff and guests.
Electrical Appliances are now a standard provision in bedrooms and can be a source of fire if they have been subjected to misuse. Occasionally an electrical fault on electrical apparatus may be a source of fire, especially if they have not been serviced regularly. All electrical equipment should be tested annually and the staff and guests kept informed of the possible dangers associated with the different types of electrical equipment.
Kitchens can be a high risk dependent on the size and especially if the kitchen is not properly supervised. Full dining facilities increase the risk but this is lessened by having staff in attendance at all times.
There is a high fire risk is storerooms where bedding, towels, flammable materials and cleaning equipment are stored. Flammable materials in the presence of chemical cleaner may result in a higher fire risk if not stored correctly. Housekeeping and ensuring the storerooms are kept as tidy as possible, will reduce the risk. Also, ensure the dangers are discussed at any training sessions.
Tradesmen on the premises, especially those that use apparatus that is capable of starting a fire, like blow lamps, gas torches, metal angle cutters, etc. One needs to ensure a high degree of supervision during and after their presence. Give the area they have been working in a thorough inspection and make sure no hot spots or small fires have been missed.
Managing Fire Safety
Good management of fire safety is essential to ensure that fires are unlikely to occur; that if they do occur they are likely to be controlled or contained quickly, effectively and safely; or that, if a fire does occur and grow, everyone in your premises is able to escape to a place of total safety easily and quickly. The risk assessment that you must carry out will help you ensure that your fire safety procedures, fire prevention measures, and fire precautions (plans, systems and equipment) are all in place and working properly, and the risk assessment should identify any issues that need attention.
Identify people at risk
As part of your fire risk assessment, you need to identify those at risk if there is a fire. To do this you need to identify the occupants of the premises, e.g. guests, residents, people working, either at permanent workstations or at occasional locations around the premises, and to consider who else may be at risk, such as visitors, visiting contractors etc, and where these people are likely to be found.
You must consider all the people who use the premises but you should pay particular attention to people who may be especially at risk such as:
people asleep (who will be slow to respond and disorientated);
employees who work alone and/or in isolated areas, e.g. cleaners, maintenance staff, security staff, night staff;
people who are unfamiliar with the premises, e.g. guests, visitors, customers, seasonal staff, new staff and contractors;
unaccompanied children and young persons, people with disabilities* (including mobility impairment or hearing or vision impairment etc.);
people who may have some other reason for not being able to leave the premises quickly, e.g. parents with children;
people who are sensorial impaired due to alcohol, drugs or medication; and
other people in the immediate vicinity of your premises.
In evaluating the risk to people with disabilities you may need to discuss their individual needs with them. In larger premises used extensively by the public, you may need to seek professional advice.
If you need any help or advice in determining whether you're building is safe, don't hesitate to contact us. Checkmate Fire can organise a Site Survey, or if you don't have a Fire Risk Assessment, or one that is 'suitable and sufficient' send us your details and we'll be in touch.