Head of Finance
Following a BA degree in Classical Civilisation at the University of Leeds, Sophie made her first foray into construction at her family's timber merchant business, where she assisted the company finance team. Realising she was fortunate enough to excel in an area she also enjoyed, Sophie joined the graduate program at the International accounting and consulting group, Mazars. Becoming a chartered accountant with the ICAEW, while working in the audit department, her hard work and dedication paid off!
Eventually returning to construction, Sophie brought her expertise to Checkmate in July 2020 as our Head of Finance. Combating the difficulties of joining a busy company during the height of a global pandemic, she rapidly impressed the whole business, and is an integral member of our management team.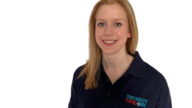 Joining the business in the middle of the Covid-19 lockdown, Sophie began her journey with Checkmate 2 months prior to the first 'year end' for our new management team.
Landing confidently in the business, she dealt with all the stresses and strains admirable, embracing the challenge of replacing our finance system almost instantly!
Fun Fact...
Alongside the eclectic mix of classical civilisation, literature and accounting, Sophie enjoys skiing, playing with her dog, Albi, and judging locations across the country based solely on the calibre of their sandwich shops - definitely a worthy criteria for audit!
Meet other members of the SMT