Head of Health and Safety
As a Chartered Member of the Institute of Safety and Health (IOSH), with over 20 years' experience in the construction industry, Colin began his career as a scaffolder at the turn of the century, working in the new build and industrial sector.
Working his way up to site supervisor, Colin rapidly developed a passion for health and safety, making it his priority across all operations.
This was reflected through his varying achievements under the Institute of Leadership and Management, the Chartered Management Institute, and the acclaimed National Examination Board in Occupational Safety and Health (NEBOSH).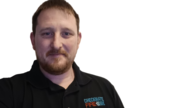 Becoming the Group Health and Safety Officer in 2014, Colin implemented cultural change across the business before moving on to TSL, and then Jelson, as the Group Health and Safety Advisor. Returning to Rilmac in 2019 to become the Health and Safety Manager, Colin measurably improved the health, safety, quality and sustainability across the nationwide business.
Bringing his expertise and experience to Checkmate Fire in 2021, we are delighted to bring our health and safety department in house for the first time. Spearheading a number of initiatives, Colin has already implemented the 'IOSH Managing Safely' training for our contracts managers and supervisors, as well as driving solutions and improvements to the processes and procedures of the 'Checkmate Way'.
Fun Fact
Working his way up to the rank of Corporal for the Royal Auxiliary Air Force, as a Regiment Gunner. Colin not only completed an operational tour of Iraq in 2007, but he is also proud to have been involved in the construction phase of the Defence and National Rehabilitation Centre in Loughborough, providing first-class medical care to our wounded, injured, and sick military personnel.
"Building a passion for health and safety early on in my career, I am so pleased to be working for a company that shares my vision and aligns with my values. Checkmate has delivered everything it promised and more, and I can't wait to continue to work with the team to ensure safety is always our number one priority."
Meet other members of the SMT