Fire Door Installation and Repair
Committed to ensuring full building compliance, all of our fire door works are certified through third party accreditation under the BRE/LPCB scheme LPS1271 and LPS1197 or BM TRADA Q-Mark Fire Door Installation/Maintenance scheme.
Checkmate specialise in the repair, restoration, installation and maintenance of fire doors and frames. Providing services primarily to occupied buildings, but also key new building projects, we are experts in the management of internal timber doors, front entrance door-sets and emergency doors. With thousands of doors remediated, replaced and inspected, we are proficient in the supply of our services across many sectors, including student accommodation, healthcare, social housing, commercial and high-rise residential buildings.
The Requirement
The Regulatory Reform (Fire Safety) Order 2005 outlines the legal obligations of the responsible person. It covers all maintenance of all elements of fire safety provisions within buildings. With reference to In BS 8214 (c.13) and BS 9999 (Annex L), routine inspections of fire doors are highlighted as necessary to maintain fire safety in buildings. Checkmate Fire are certified through third party accreditation under both BRE/LPCB and BM TRADA schemes, so you can rest assured that our inspectors have the appropriate fire door qualifications and credentials.
The Importance of Fire Doors
The key to passive fire protection is to contain the fire to a particular compartment or room, giving occupants enough time to escape and the fire service enough time to enter the building and tackle the fire. Designed to prevent the fire or smoke from spreading, a fire door is one of the most important fire safety products on your premises.
However, due the nature of fire doors being used in a functional way on a regular basis, they are at greater risk of damage and abuse, seriously compromising the fire protection in your building. This is why it's key to ensure regular inspections and remediation, preventing the need for replacement, and more importantly, ensuring your buildings remain compliant.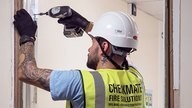 Risk Prioritisation
Any element of defect, damage, use or installation that affects the performance of a fire door should be considered as critical, irrespective of door location. However, budgets may mean that a degree of prioritisation of works may be required.
Checkmate inspect and deliver all works in line with approved protocols. If prioritisation of works is required, we will work with you, and an appointed fire engineer to consider the best route forward, potentially remediating or replacing doors that are considered a higher risk (e.g. escape routes/plant rooms) earlier in a programme than lower risk location doors. Checkmate offer full surveys of your doors to enable risk prioritisation to be considered.
Existing Fire Door Remediation
Fire door repair involves the application of a set of industry-accepted repair techniques which reinstate the integrity of the fire door, enabling it to perform as originally intended in the event of a fire.
So, how can you be sure the repair work you do is correct and that the doors are fit for purpose? Unfortunately, with some existing doors, there may be no product certification and maintenance instructions. Using our fire door survey process and bespoke software, Checkmate's BRE and FDIS qualified fire door inspectors undertake inspection and remediation of existing fire doors under the BRE/LPCB door remediation scheme LPS 1197.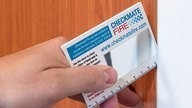 Checkmate's expert passive fire engineers are fully qualified to carry out fire doors inspections and repairs that will not compromise the integrity of the door. Over the last 5 years, we have remediated 60% of all fire doors - only installing new ones when necessary.
Checkmate is able to fit a range of innovative and cost-effective products to protect and increase the life of doors whilst reducing maintenance bills. All installed protection products are designed, tested and proven to retain full integrity even after prolonged abrasion and impact. Common areas where repairs take place are:
Leaf gaps
Threshold gaps
Light leaf/frame damage
Hinges
Glazing
Door Hardware
Air Transfer Grilles
Door Closing Devices
Intumescent Strips
Signage
LPCB/BM TRADA Accreditation for Peace of Mind
Checkmate are LPCB accredited for a reason. LPCB has been assessing and approving fire resisting systems and fire protection construction products for more than 100 years and has one of the best equipped laboratories in the world. So, ensure you use accredited installers of fire resisting systems and fire protection construction products.
Remember, it is crucially important that systems are installed in accordance with the manufacturer's instructions. These instructions can also specify the necessary fixings; any deviation at all from the system specification or method of build which must be confirmed in writing before the work is commenced.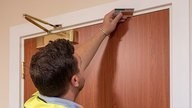 It is often too late when the product has been installed to try to unpick, and this can also lead to costly remediation work.
All remediated doors will be issued with a 3rd party LPCB certificate to LPS1197 standards or BM TRADA record of Q-MARK certified activities
Checkmate Fire is one of most experienced and respected specialist passive fire protection companies across the United Kingdom. With quality, compliance and value at the core of our fire-door delivery, we can guarantee a real focus on customer satisfaction, always looking to remediate doors where possible, instead of charging to replace.
Working on time and on budget, we utilise cutting edge technology to improve customer service, delivering the following fire door specialisms:
Hinges
Glazing
Door Hardware
Air Transfer Grilles
Door Closing Devices
Intumescent Strips
Signage
Pre-Planned Maintenance Packages
Fire Door Installation
When it's not possible to repair a fire door, because damage to its integrity is so severe, or the fire performance certification may limit the scope for repairs and alterations, Checkmate's expert installers are on hand.
Fire door installers are skilled joiners that hold BRE LPCB / BM TRADA Q mark qualifications in the installing of new fire doorsets or remediation and repair of existing fire doors. They follow manufacturer's installation guidance, global assessments, industry-accepted guidance, and fire door codes of practice to ensure a compliant installation.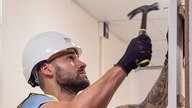 Offering a full turnkey compliance service, from survey through to supply, installation and maintenance, our clients can be assured that all fire doors are installed in accordance with the manufacturer's fixing instructions and test evidence, to ensure that they perform as intended in a fire situation.
With over 30 years' multi-sector experience, Checkmate can provide fire door services to 'severe usage' locations, such as cross corridors and stairwells or NHS hospitals, which may require a higher specification than light-duty doors.
Aftercare
Fire doors are in constant use, and this use leads to failures in performance over time. The type of environment, level of use and likelihood of damage all influence how long a door is compliant for after initial fitting (or remediation event). Checkmate offer a service to allow for on-going inspection and maintenance of fire doors, taking into account the usage and subsequent variations in inspection frequency. For more detail please see Checkmate compliance+
Let's Make This Simple...
Adept at the smallest of projects, to large, complex building and national re-fit programmes, we can provide a solution to your fire door requirements that fits with your business. Working across multiple sectors, we are able to plan effectively, developing incredibly communicative programmes of work, safe, well executed RAM's, and the best possible solutions with the least amount of hassle for your building users and/or residents.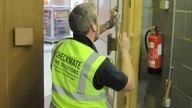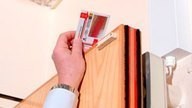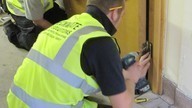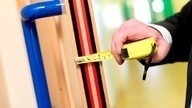 Want to protect your fire safety investment?
Our Pre-Planned Maintenance service, Compliance+, removes the impact of unexpected costs and provides you with peace of mind that your fire safety measures will always be compliant.
Enable Budget Surety

Mitigate Risk & Liability

Safety First Compliance