Minerva Court, Curo Group
Built in 1988, and comprising 32 flats within one large building, Minerva Court is a retirement housing village, located close to the centre of Bath, and owned by housing association, Curo.
Sector

Housing

Location

Bath

Client

Curo Housing Association

Timescales

March 2020 - July 2020

Services Utilised

Fire Door Survey, Replacement and Remediation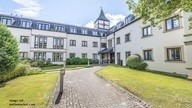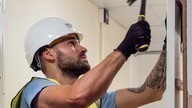 Following a comprehensive fire door survey commissioned by Curo and carried out by Checkmate Fire, some issues were picked up with the fire safety of the current doors. We were then contracted by the client in March 2020 to deliver a programme of fire door replacements and remediation works throughout the premises.
Checkmate's scope of works included installing 35 brand-new FD30 fire doors, along with remediating 27 of the communal doors, and delivering associated fire-stopping works behind the frames.
Challenges:
Residents had already been involved in one set of improvement works, so we had to take care to ensure our resident liaison processes were planned meticulously. This was sometimes challenging, and whilst there were times when it did not always go to plan, the team worked hard with Curo to resolve these issues.
We managed to complete most remediation works just before lockdown was announced - right at the time of new door delivery. Having to spread our initial 6-week programme out across a longer period of time to accommodate Covid lockdown, our return to site was accompanied by comprehensive Covid-safe procedures to ensure maximum safety for operatives and residents.
Working with vulnerable residents, it was imperative that we communicated frequently and sensitively with them and their families. With some residents needing extra care, we worked with the client to ensure everyone was fully amenable to the works going on around them.
Above and Beyond:
Liaising with Curo, and the residents' sheltered housing officer, we were able to gradually forge a strong relationship with both the client and the residents – to the point that the residents were pleased to see our teams on a daily basis. Not being allowed to see their families and friends, our visits alleviated their loneliness and sense of isolation, as well as returning their homes to the appropriate levels of compliance.
Replacing all chrome hinges with brass hinges at the request of the residents, we completed these additional aesthetic jobs at our own cost, seeing how much the residents appreciated the gesture.
For the guys from Checkmate who worked at Minerva. They've done a really great job interacting with the residents and getting the work done in a professional and friendly manner. The residents are so pleased that they decided to put together a collection to get some bits to say thank you…Credit to Checkmate!"

- Dan Wilcox, Fire Safety Officer, Curo
Benefits provided:
Completing all jobs on time and to budget – with consideration taken for Covid programme adjustments – we have forged a solid relationship with Curo and the residents of Minerva Court.
Ensuring each flat was restored to the appropriate level of safety and compliance, everything was delivered safely, with no issues or incidents.