King's Dock MSCP, Wilmott Dixon
Following the devastating fire at King's Dock multi-storey car park on New Years' Eve 2017, the building has since been demolished, with a new waterfront car-park built by Wilmott Dixon, to exceptional standards.
Sector

New Build

Location

Merseyside

Client

Wilmott Dixon

Timescales

January 2020 - September 2020

Services Provided

Compartmentation and fire stopping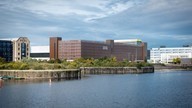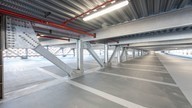 With huge emphasis on both active and passive fire protection, Checkmate was contracted by the client in January 2020 to deliver a comprehensive scope of fire stopping and compartmentation works to the new building.
Scope of Work
As an 8-floor facility, with the capacity for 1453 cars, the structure is the biggest car park in Liverpool. Delighted to secure the opportunity to work on such a significant project, for such a prestigious client, our scope of works included:
Installing vertical and horizontal cavity barriers to the building stair and lift cores
Compartmentation and fire stopping works through floors and walls, as per strategy drawings – all passive fire ratings were rated at 30, 60 and 120 minutes. Because of the 120 minute requirement, we worked alongside Rockwool to use their innovative products
Other passive fire protection works to ensure full building compliance
Challenges:
The biggest challenge we faced, was installing cavity barriers to external cores in winter.
This meant our Rockwool products were exposed to the elements before cladding was put on. Going above and beyond to ensure project success, we incorporated the additional use of brackets, which weren't originally specified, but kept all works secure until cladding was installed.
Working throughout the Covid pandemic, we followed Checkmate and Willmott Dixon's stringent protocols. The client kept the site extremely well ventilated, and we were able to follow government guidelines on social distancing and contact. Automated information units were installed around site, reminding site users of social distancing rules.

Checkmate worked with us, the design team and the supplier to deliver the project, which included some unique solutions to meet the needs of the building.

- Andrew Beale, Construction Manager for Wilmott Dixon
Benefits provided:
Delivering all works on time and to budget, we helped ensure the long-awaited car park was opened to the public as promised. Working seamlessly alongside active fire precautions, the car park is beyond compliant, providing visitors and workers with complete peace of mind.
Special thanks to Wilmott Dixon for granting us permission to use their original photography in this case study. Please see their case study on King's Dock MSCP by clicking here.