Having identified that the passive fire protection industry had room for improvement in regards to apprenticeships, the HR department at Checkmate Fire created a 12-24 month trainee scheme to help introduce fresh talent to both the company and sector.
Already an incredible success, the initial goal was to have 12 trainees committed to the scheme by November, however, that figure was quickly exceeded, with 17 trainees having signed up.
Targeting people with transferable skills, the majority of Checkmate's trainees come from a background in trade, and already hold a City and Guilds Level 3 in Carpentry. With the long-term aim to create a strong team of onsite operatives and engineers, their experience ensures that the trainees already have a real head start when it comes to delivering expert installations – such as with fire doors.
A bespoke course designed to provide both on-the-job experience and the relevant qualifications, trainees will have the opportunity to gain the following: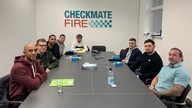 NVQ Level 2 in Passive Fire Protection
SSSTS
PASMA
BRE qualification in fire door installation, repair and maintenance / fire stopping compartmentation.
Further proof of Checkmate Fire's commitment to creating the most complete team of passive fire protection experts in the industry, our trainees will be directly employed for the duration of the scheme, rather than being subcontracted. Checkmate Fire look forward to building on this encouraging start, and growing the scheme in the future.
If you are interested in applying for a place on the Checkmate Fire trainee scheme, please contact us directly on 03301 247 645.