Only a few short months after the opening of our Glasgow office, we're delighted to announce further expansion of the company, with a new Surrey branch now open in Redhill!
With the region previously serviced by our Harlow office, the new Redhill location will take responsibility for all business that falls south of the river Thames. This will enable us to provide our wide range of clients in the area with a more dedicated resource, further underlining Checkmate's capability to provide truly nationwide coverage.
With over three decades of experience in the field, Andrew Ware has joined us as the Regional Manager for London South, bringing his knowledge of passive fire protection – and much else besides – to new and existing clients alike. Commenting on this exciting role, Andrew said, "Checkmate's impeccable reputation precedes it, and I am incredibly happy to join the company. I'm thrilled to have been given the challenge and opportunity to help grow this ever-expanding business in Southern England".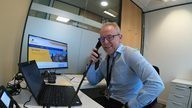 Having enjoyed a long and successful career to date, Andrew's work ranges from passive fire protection and fireproofing to construction and engineering. With extensive experience operating both for and within large corporations at a senior level, Andrew is a real asset, who underlines the company's wish to provide the greatest service possible. Checkmate is incredibly excited about both this expansion and appointment, and we look forward to what Andrew can bring to the Redhill office.
Opening up the South Coast to Checkmate in a far more accessible manner than was previously the case, this move helps realise our aim of being organised nationally, while delivering regionally. Having worked in the area in the past, we are keen to build on those experiences and create a real foothold in the region, with the possibility of further investment, growth and expansion in the near future.
Having worked extensively across several key areas of work and business in the past, the South London office is already making waves under the management of Andrew and his team. Alongside ongoing works with Epsom Hospital, we're also working with the Children's Trust in Tadworth. As the UK's leading charity for children with brain injury, we're incredibly proud to be ensuring the safety of their buildings.
As another positive sign of growth for the company, this news helped us start the year on the right foot, and is yet another signal of more exciting things to come. Watch this space!