Checkmate Fire Solutions, the UK's biggest passive fire protection specialist, is continuing its expansion with the opening of a new office in Swindon.
The Yorkshire-headquartered business already has regional offices in Birmingham and Essex, but rising demand for its compliance and third-party accredited installation services means it now needs an additional location.
The new office at Swindon's Windmill Hill Business Park will be managed by Mark Cawthra, who will oversee the delivery of services to customers across South-West England and South Wales.
Mark said: "I'm excited to be joining a forward-thinking organisation like Checkmate, which has a long-running commitment to improving safety for the public and businesses.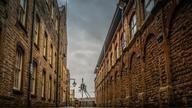 "Fires are still a worryingly common event – official statistics show that there are more than 15,800 fires a year in non-residential buildings in England – so there is a lot of work to do to improve the integrity and resilience of properties.
"Checkmate can play a key role in doing that by continuing to deliver high-quality Passive Fire Protection, Fire Door, Intumescent Paint and Fire-Resistant Glazing installations and associated compliance services.
"I'm now looking forward to working with facilities management contractors, NHS trusts, universities, housing associations and commercial property owners across the South-West to help them protect workers, residents, businesses and public services from the potentially devastating effect of fires."
Checkmate was established in Yorkshire as a supplier and installer of fire stopping in 1989 and has since grown into the UK's largest passive fire protection specialist.
From its headquarters in Elland and offices in Birmingham, Harlow and Swindon, Checkmate Fire operates two divisions – compliance and solutions.
The compliance division helps businesses and public sector organisations to improve the safety of their buildings and meet their legal requirements related to RRO and all other relevant regulations. Its services include passive fire specification consultancy, fire door inspections and fire compliance surveys, complete with associated certification and recertification services.
Checkmate's solutions division specialises in third-party accredited installation of fire stopping, fire doors and fire-resistant glazing in new builds, extensions, refurbishments and sites requiring remedial work. Its fully-trained teams have experience of undertaking complex projects in tall buildings (both residential and commercial), hospitals, universities and schools, industrial and office buildings.
For more information about our services or to request a quote, please contact Checkmate Fire Solutions on 01422 376436 or via the website.