Please join us in congratulating Damien Ward, our Technical and Compliance Manager, for completing the grueling 100 mile bike ride this month for Charity. Everyone here at Checkmate Fire wish to say Congratulations to Damien Ward for completing the Prudential Ride London 100 on Sunday 2nd August.
Battling torrential rain and strong winds – yep the one day the Heat wave took a break – , Damien took part in the 100-mile ride along with 25,000 other riders to raise funds for Charity.
For those of you who don't know about Ride London, the event (officially called Prudential Ride London Surrey 100) covers the same route as the cyclists raced in the London 2012 Olympics. Ride London, now in its sixth year, is aimed at encouraging more healthy and active travel. Setting out from the Olympic Park, the cyclists then head to west London and experienced challenging leg testing climbs through parts of Surrey, before finishing on the Mall in central London. So think of it as cycling's equivalent of the London Marathon, except of course Ride London is 100 miles! Plus you have to cycle up some seriously steep hills in Surrey. So it was a tough challenge for amateur cyclists to take on.
And for Damien the ride represented a particular challenge as he is not a regular bike rider, but, spurred on by doing this for a good cause, Damien never backed down
"The event is brilliant, you get to recreate the Olympic route from 2012 and the atmosphere is amazing. There's thousands of people out of their houses supporting and cheering you on."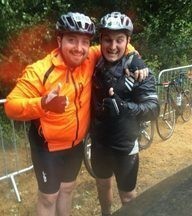 Damien raised more than £1,225.00
What an amazing achievement for Damien to complete the Ride London Surrey 100, and not to mention that it entailed a 4am start, torrential rain, mechanical failures and failing breaks due to the unexpected wet weather. Out of 25,000 riders around 5,000 did not finish the course due to crashes and succumbing to the harshness of the event. Damien and Luke cycled for an exhaustive 7 hours and 28 minutes, with a total time on the road of nine and half hours.
***
On behalf of Checkmate Fire, we send our thoughts to the family and friends of Nigel Swanson who died tragically while cycling in the Prudential Ride London Surrey 100.