Fire Resistant Glazing
Protecting a wide range of environments, including public spaces, industry, offices, theatres, education centres and hotels, Alufire's fire resistant glazing provides Checkmate Fire's clients with maximum safety and compliance – while delivering a stunning solution.
Installed and supplied exclusively by Checkmate, we work together to deliver the best-in-class, fully accredited installs, ensuring the ongoing compliance of your buildings.
State of the art glazing partitions

Who we work with

We can provide it all
Alufire products were specifically developed to achieve high standards of fire, smoke and heat protection and acoustic performance, while also meeting the requirements of architects for enhanced aesthetics, greater access to natural light and internal views.
The range includes glazed partition and wall systems, doors and windows, with protection from 15 to 120 minutes in terms of both insulation and integrity (EI). All items are fully certified to LPCB and European Standards (EN).
Alufire's World-Class Products
The fire-resistant partitions, doors, and windows include:
Classic Line
Advanced fire resistant, framed aluminium windows and partitions, with fire ratings of EI15, EI30, EI60, and EI120
Classic Line Doors
The most reliable and advanced fire-resistant aluminium door, with ratings of EI15, EI30, and EI60
Vision Line
Alufire's most advanced fire-resistant, frameless aluminium partition system, with ratings of EI15, EI30, and EI60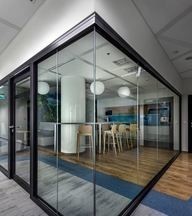 Architectural Collaboration
Managing the project from conception to completion, Checkmate's delivery teams collaborate closely with architects to determine product specification, efficient manufacturing, and a timely final product installation and certification.
Alufire's fire resistant glazing products are used extensively throughout the UK and Europe, and we are proud to be the sole UK installer.
From Design to Installation
As specialists in passive fire protection, Checkmate understands both the important role that fire-resistant glazed doors, windows and walls can play in protecting workers and visitors to your premises, and the practicalities involved in achieving a high-quality installation.
Our team of specialists can handle every stage of your project, from designing your Alufire solution through to installation and certification. And their expertise means you can be certain that the end result will be glazing that meets the aesthetic, sound control, light and safety requirements of your premises, as well as satisfying your insurers.