Checkmate Fire are long-time advocates of the benefits of third-party certification for all passive fire protection and our belief has been further strengthened by the Government's ongoing investigation into the quality of fire doors.
We believe that all fire doors should be certified by an approved UKAS certification scheme, and it appears that the Government is now moving towards implementing this.
The Ministry of Housing, Communities and Local Government (MHCLG) has examined the performance of 30-minute fire doors after it emerged that a glazed composite door used at Grenfell Tower had failed a subsequent fire resistance test.
It went on to examine a range of other doors and found that a total of five doors failed fire resistance testing when tested on both sides. All five have been withdrawn from sale, although the Government's Independent Expert Panel and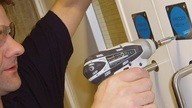 the National Fire Chiefs Council have advised that the risk to the public living or working in buildings where these doors are installed is low.
James Brokenshire, the Secretary of State for Communities, has now ordered action to improve standards.
"I want to see a clear plan of action to rectify existing problems and ensure such failures are not repeated in the future," said Mr Brokenshire. "Whilst our Expert Panel assures me the risk remains low I want to assure the public that the government is doing everything it can to ensure construction products are of the highest safety standards and accurately tested and marketed."
As a result, MHCLG plans to work with third-party certification bodies to develop minimum standards of assurance for fire doors and will also write to all Building Control bodies highlighting the need to check that existing Building Regulations guidance on new fire door installations is followed.
Checkmate Fire are delighted to see that the Government is planning to implement a new standards regime for fire doors to help protect the public and look forward to seeing the details.
We are also pleased to hear that MHCLG has identified proper installation as an important safety factor, but would like to see steps taken to improve the inspection regime for fire door installations.
All too often in the past, cost has been prioritised over quality of work on major residential, public sector and commercial new-build projects, resulting in the effectiveness of good quality fire doors being reduced due to poor installations undertaken by non-specialists. The ability for sub-contractors to self-certify has then seen these flawed installations passed by Building Control Officers.
This situation can be avoided by third-party certification of installations, with specialist inspectors checking that not only have the right UKAS accredited fire doors been specified, but also that the requirements for intumescent strips, glazing, closers, hinges and leaf gaps have been met fully.
Such third-party certification of fire door installations is already available under a BRE Global Loss Prevention Certification Board (LPCB) scheme, which can provide property owners and insurers with peace of mind that buildings are safe for occupation and meet the requirements of RRO.