A well designed, professionally installed timber fire door will delay the spread of fire and smoke in the event of an emergency, causing minimal hindrance to the movement of people and goods. In order for a safe escape, each fire door has requirements so that it successfully acts as a barrier to the passage of smoke and/or fire.
A fire door required to provide resistance to the passage of an aggressive fire must be fitted with intumescent seals. Under normal conditions, these seals remain dormant, but expand significantly in order to close the gap between the door and its frame in the event of a fire.
Smoke spread, however, poses a higher threat to life and property than flames, particularly in the early stages of a fire. This means that fire doors should also be fitted with a 'cold smoke' seal to prevent the access of smoke around the door edges. When smoke and intumescent seals are combined, there is protection from all aspects of fire within a single unit.
However, not all fire doors are kept in the best of conditions and can pose a serious risk to building occupants in the event of a fire. Here we take a look at the worst possible fire door mistakes which breach fire safety legislation.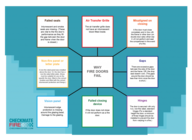 The door is secured with only two, non-fire rated, standard hinges (For a standard height fire door, a minimum of three hinges should be installed to prevent the door from warping in a fire.)
There are excessive gaps between the side of the door and the frame. (The gaps around the door should be less than 4mm once the door is shut.)
Intumescent and smoke seals are missing. (These are vital to the fire door's performance as they fill the gap between the door and frame when the door is closed.)
The door has a non-fire-rated letter plate. (Letter plates must be suitable for use on the specific fire door and detailed on the fire door certificate as a compatible component. Letter plates must also be fitted in the correct location within the fire door leaf and fitted with the correct intumescent protection and fixings.)
The air transfer grille does not have an intumescent block fitted inside.
Intumescent edge protection is missing around the glazing bead.
A non-fire rated panel was installed above the door.
We cannot emphasise enough the importance of correct fire door installation and maintenance. Without the protection of intumescent interlayer and intumescent seals, a faulty door can allow smoke to pour through the gaps after just four or five minutes.
This is about life and death. Just imagine being in front of a faulty fire door, relying on it to buy you time to be saved from a fire, and seeing it fail before your eyes.
Will your fire doors pass an inspection? Find out more about our 3rd party accredited inspection services.
Fire doors are in almost every building where we work, live and sleep and they are often never given a second thought. But they must be specified, fitted and maintained correctly by third-party accredited professionals with certificated compatible components. This is the only way to ensure that the fire door performs to its intended fire rating. Every tiny detail and every split-second counts.