Fire doors play an essential role in providing passive fire safety protection.
Fire doors are an important safety feature of any building in which people work or visit, as they offer resistance to the spread of fire and smoke limiting its effect, therefore it is vital that fire doors are installed and maintained as fit for purpose.
But first, let's examine the legal obligations that building, estates and facilities managers, as well as installation and maintenance contractors, are under as well as how to make sure fire doors are correctly maintained while avoiding costly mistakes and unnecessary expense.


Fire Doors and the Law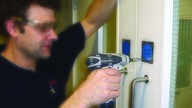 Any person, company or organisation that owns, manages or operates buildings must comply with the Regulatory Reform (Fire Safety) Order 2005. This means that the 'Responsible Person' must ensure that a suitable and sufficient fire risk assessment has been carried out and that this includes fire doors and escape doors.
Article 17 of the order includes the duty to engage 'Competent Persons' (as referenced in Article 18) as necessary to assist with fire safety measures which of-course includes fire doors.
Furthermore, under clause 5.3 and 5.4 anyone procuring or responsible for installing a fire safety system must ensure that those installing it are up to the job. There have been many successful prosecutions for failing to meet these requirements, but now attention is turning to those who procure and install.
Your responsibility
Owners and occupiers should ensure that fire doors and escape doors are kept in safe working order by a properly documented system of regular maintenance, carried out by competent individuals. A maintenance log should be kept and all doors given a unique reference number. The maintenance period should be appropriate for the building and an assessment of the door usage, location and footfall. For help with this just drop us a line.
But why? you ask, I have a fire alarm and extinguishers…
Fire doors are an essential part of a building's passive fire safety strategy. In a fire they provide compartmentation to prevent fire and smoke spread, assisting in safe evacuation and providing protection to the rest of the building.
Essentially, they help to keep the fire in the part of the building where it started and help check its development.
Once installed and as with any other life-saving product, a fire door should be checked regularly to ensure it functions correctly and is ready to use. It should be considered in exactly the same way as testing fire detection and alarm systems or portable fire extinguishers.
For the doors to work efficiently, regular and programmed maintenance must be carried out to all parts of the door by competent persons
General wear and tear will play an obvious role in degrading the effectiveness of a fire door over time. also, any slight alteration to the door or its surroundings can affect the performance of a fire door. Periodic checks must be carried out; with the period between inspections being determined by the frequency of use generally throughout a building.
For the doors to work efficiently, regular and programmed maintenance must be carried out to all parts of the door by competent persons, using a third party (UKAS) accredited organisation for this work will give the duty holder comfort in knowing they are meeting regulatory requirements and that the job will be done by an organisation assessed and certified as competent by others.
With existing doors there may be no product certification and maintenance instructions so how can you be sure the repair work you do is correct and that the doors are fit for purpose?
The answer is to make sure that the work is carried out or overseen by qualified people who have fire door qualifications and credentials. Qualified fire door inspectors, repairers and maintainers will be aware of the British and European standards relating to fire doors and their installation as well as publications and best practice guidelines.
Fire safety legislation makes it clear that fire doors are installed and maintained as fit for purpose and BS9999 gives guidance about inspections and how often they should be made so it's an area where you cannot afford to take chances. This is not simply a job for the handyman or joiner.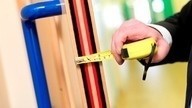 But what about procuring new fire doors?
The fire door manufacturer will have had the fire door performance tested at a laboratory, together with suitable door hardware, glazing and seals, and an assessment will have been made providing details about the type of configuration for which the door may be used and the type of door hardware (locks, latches, hinges and door closers etc.) that may be fitted.
Think of a fire door as an engineered fire safety device that must be installed on-site to replicate what was tested in the fire performance test or you can't be sure that the door will provide the required level of protection.
These days most fire doors and hardware components will have actual fire test evidence and also belong to certification schemes so the supplier will be able to provide the certificates, instructions and assurances you need.
Take time to study these and you will see that there are limitations to the trimming of door edges and to sizes and types of door hardware and seals that may be fitted. You should also insist on buying products whose manufacturers can back up stated claims with actual performance documentation.
Beware of claims such as 'complies with…' Insist instead on evidence that products have achieved the required ratings in the fire performance test.
Using this information will enable you to not only carry out correct installation but to provide the necessary information required for the operation and maintenance manuals.
One particular area where heeding manufacturer's instructions is essential is where glazed vision panels are required.
Many fire doors these days must have any apertures cut and the glazing system fitted only at the manufacturer's own factory or by a licensed door processor. On-site cutting of apertures and glazing is not permitted and will invalidate the fire performance certification.
Do you have a fire door maintenance contract in place? Or are you concerned you are not getting the correct advice on your fire doors?
If you have any concerns or questions about the quality of your fire doors and would like advice from a fully third party accredited company feel free to contact us and a member of our team will be more than happy to help.