It was fantastic to see our CheckSafe initiative in action yesterday, when our COO, David Woffendin, and Operations Director, Simon Kelly visited one of our South East based sites, where they were shown around by Supervisor, Deividas Jocys.
CheckSafe embeds a culture of working safely on site, and provides encouragement that doing so is a collaborative effort. The question "Am I working Safely?" encourages building users to communicate easily with our business, and enables us to "correct and learn", ensuring our site teams remain safe.
Before work begins, our operatives ensure each of our sites adhere to the 'Safety Big 5' checklist.
Operative has access to and is in agreement with the site-specific safety paperwork
Operative is aware of site and company specific incident and emergency reporting procedures
Appropriate and branded PPE is worn
Workspace is clearly segregated from other building users
Workspace is clean, tidy and free from slip, trip or fall hazards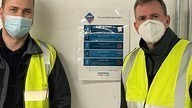 With a strong commitment to our colleagues, clients, and stakeholders, Checkmate continues to be at the forefront of Health and Safety management
Aiming to create sustainable business, satisfied clients and protected communities, we embrace the most up-to-date and relevant thinking in all our operations, with our primary goal being that everybody connected with our work is safe.
Thanks again to Deividas and his team for running such a safe and well-functioning site.