Perpetuating a culture of sustainability, charitable works, and giving back to the community, Checkmate Fire is devoted to ethical, sustainable and responsible working.
I know…that sounds like a well-rehearsed line, doesn't it? Fortunately, we have been working hard to prove it, starting with the announcement of our latest 'green scheme'.
Way ahead of the government's aim for all new vehicles to be electric by 2030, we are already on target to achieve a fully electric fleet by the end of this year, reducing our annual C02 footprint by over 98 tonnes! With our first set of 7 electric cars having been delivered earlier this month, along with charging points installed at our colleagues' homes, the rest of us are left clamouring for our sustainable deliveries.
And that's not all. At Checkmate, this is just the start of our enhanced environmental commitments.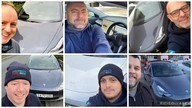 Checkmate's Green Scheme
Already recovering energy from almost all of the waste generated from our site-based activities, we are working on initiatives to move up the waste hierarchy, spearheading specific projects to recycle timber fire door products, or re-use into secondary products wherever possible. Striving to be an industry recognised leader in Environment, Sustainability and Governance (ESG), we are also looking to carbon off-set our entire energy usage, or switch to a completely green supply.
We are starting to work with our supply chain to not just understand their environmental credentials, but learn from them on ways they are minimising energy use or offsetting impacts from their manufacturing processes.
But something we definitely consider a huge milestone, has been 'electrifying' our company car fleet.
After making the decision to go electric, we partnered with GoFor Finance in the supply of our new Tesla fleet. GoFor displayed a can-do attitude in supporting our green policies and desire to improve, delivering an offer that was more than just a 'rate per month'. The partnership added value to our operational teams by reducing the complexity of managing numerous suppliers, creating one clear platform for the management of all fleet cars (including existing run-out fossil fleet), DVLA checking our drivers, and setting up a driver app to ensure we take care of our teams and vehicles.
At first, we were expecting the change to all come at significant cost, and I was concerned that the costs would perhaps become an overriding factor to adoption. However, actual full-life costs - taking into account traditional fossil fuel spend - meant that the overall cost impact of higher rental costs were often off-set by the cost of fuel.
Yes, it cost a small amount more, but far less than anticipated based on our fleet usage – we also see in the long term the expanding choice of electric vehicles naturally reducing costs as competition grows. And we're proud to be front-runners in this arena.
Boundless Benefits
But that's not all. There are much wider benefits too.
Simplifying the offer to a single model, with no upgrades, means that the fleet is fluid. Our teams are aware that if their Tesla is above mileage, they are expected to swap during the term with a lower mileage, and vice-versa.
If we have a new starter, and a stood vehicle, it is the same model and spec as every other one, rather than the old-fashioned prohibitive car bandings, meaning more productive use of fleet and lower costs - and our teams are happy that they are treated with equal levels of respect.
Investing in our Employees
And then to the most important part; our drivers are over the moon with their new Teslas, posing for multiple selfies with very little coercion, and making any partners/children in the passenger seat earn their place with the 'Karaoke app'!
Bolstering the business benefits, we have a delighted team, with exceptional cars and new gadgets to play with, that cost each person on average about £90 per month less than the previous car, when weighed up against benefit in kind through the government's current incentives.
Speaking with some of our new Tesla drivers, our Contracts Manager, Scott, said, "My whole family are so happy with our new car – the kids absolutely love it. It has heated seats, looks amazing, is easy to use and comfy to drive, and it fits with our target to 'go green'."
Operations Manager, Mark, showed equal enthusiasm, saying "The car looks and drives amazing! We are all very lucky to be driving what will be the future in technology on our roads…both my girls love sitting in a warm car playing the Tesla games, and I really like being able to defrost and heat the car from my bed before setting off to work on a frosty morning, as well as my phone being the key."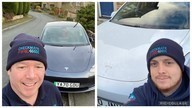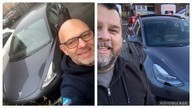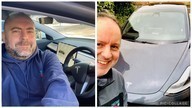 Customers Can Teach Us A Thing Or Two!
How and why have we done all this? I am passionate about making real sustainable improvement, reducing the impact of the works we deliver and the local environments we work in. It's a constant challenge, and sometimes a frustrating one. As the largest independent passive fire protection business, changing an entire fleet to electric is a key milestone, however there is more work to be done.
Recently, one of our key strategic clients, introduced us to the 'Sustainability School', which focuses on providing value add to sectors through expertise, skills and experience in all things sustainable. As a direct consequence, I was keen to drive real improvement into our business. I learnt a lot about like-minded suppliers and clients and the often-shared environmental hurdles they face.
It's not always about the balance between environment and finances, it is sometimes as simple as "this is the right thing to do, now". But it is not always that easy. For instance, I am very keen to find circular solutions to the plastics we use in the installation of mastics' in fire-stopping works – complexities around transport impacts, low-cost consumable goods, high-tech moulding equipment have all led to road blocks along the way. Projects take time and input from multiple sources to reach conclusion, and sometimes it is like minded clients, that kick-start us out on that journey.
Put simply, we are not giving up yet in our quest to find solutions to our industries' biggest environmental issues, and we welcome a collaborative approach across the industry to make it happen.
Our teams work tirelessly to improve the fire safety of our customers buildings. If they can do this with the wider support of our business, minimising the environmental impacts of our work the benefits are directly with our customers.
If you have any questions, ideas or simply want to know more, please don't hesitate to get in touch with me on gavin.slattery@checkmatefire.com