Checkmate's Pathway to Passive Fire Compliance Seminar
Continuing to deliver essential services across all sectors, Checkmate has put a temporary hold on all current events. We will be resuming seminars, exhibitions, breakfast meetings and client networking events as soon as it is safe to do so. In the meantime, please see below for our hugely successful 'Path to Passive Fire Compliance' seminar, hosted in Bristol, January 2020.
January 21st
Checkmate Fire enjoyed another successful CPD event, hosted by our insurance partners, Aviva, in Bristol this month, curating an impressive range of guests to share their knowledge of passive fire protection with those in attendance.
A day long event, the agenda including an address from Rebecca Saunders, an Underwriting Manager at Aviva, and Checkmate Fire's own Gavin Slattery in the morning. These were followed by sessions from Colin Wells, also of Aviva, and Howard of the Fire Protection Association, who presented under the header of 'Identifying The Problem'.
The next section, subtitled 'Specifying The Solution', was spearheaded by Andrew Taylor from the Association for Specialist Fire Protection, and also included engaging presentations from Sarah Lewis of Lorient UK, Aaron Gardiner of Firetherm and Barnaby J Carrick of Siderise.
Bringing the event to a close, Checkmate's own Damien Ward shared his knowledge of practical solutions and how to work with a passive fire protection contractor as well as summing up the event as a whole with closing remarks, with Mark Newton of BRE Global highlighting the importance of 3rd party certification.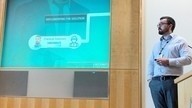 A Fantastic Day
Those in attendance were quick to praise the impressive venue and the Checkmate staff hosting the event were highlighted for their friendliness and approachability. There was lots of excellent feedback for each of the presenters on the day, who we'd like to also extend our thanks to for their time and knowledge. Each speaker delivered brilliantly informative presentations and helped expand the knowledge base of all in attendance.

Hosting 145 attendees, the event was a real success, with everybody achieving their 5-hour CPD certificate on top of the additional knowledge gained. Checkmate Fire's next event will be in Glasgow, so please get in touch to register your interest without hesitation.